February 27, 2006
CHP Issues Mandatory Stand-Down
Starting tomorrow, the California Highway Patrol will begin a 48 hour mandatory "Stand-Down". Over the last five months, the CHP has experienced the painful death of six officers.
From FOX 40 News:
SACRAMENTO — Shaken by the deaths of six patrolmen since last fall, the California Highway Patrol on Monday required its field commanders to review safety procedures with their officers.

The statewide "stand-down" will be in effect for two days for the CHP's 108 field offices but will not affect deployments or service, CHP Commissioner Mike Brown said during a news conference.

Brown said the rarely used action also will give officers the chance to vent their feelings. He said there was "a lot of anger" within the department over the rash of deaths, the latest of which came over the weekend when a Southern California motorcycle officer was struck by a suspected drunken driver during a traffic stop.

"We have been struggling with this internally," Brown said.

The stand-down applies to the department's 7,287 uniformed officers and its 3,112 non-uniformed personnel. Over the 48-hour period, field commanders will set aside several hours to discuss the events with their officers, reviewing the department's safety procedures and identifying any potential problems in policies or training.

While the CHP claims that even though there will be many officers in meetings, it will be "Business as usual" for them. I think tomorrow's "Stand-Down" will be a great tool. Officers and other personnel will have an opportunity to voice concerns and make recommendations to their supervisors.
It will be interesting to see if the CHP takes the information gathered over the next 48 hours and does something constructive with it.
---
February 22, 2006
Local Sacramento School Wants Kids To Walk To School
A local Sacramento school is recommending that children walk to school. Regency Park Elementary which is part of the Rio Linda Union School District, is asking parents NOT to drive their kids to school. In an effort to keep children away from moving cars, the school is redesigning it's drop off and pick up policy.

In a letter sent home to parents, it starts off with the following paragraph:


We are encouraging all families living in the Regency Park Community to allow their students to walk to and from school each day. Kids today don't have as many opportunities to be as physically active as they once did. At school, physical education time is just 200 minutes every two weeks and is not conducted by a specialist. Today's children have a wider variety of television programs and video games to entertain them. These realities are keeping kids from getting regular phyisical activity and may be contributing to a growing number of overweight children, which has increased by 63% over the past 30 years.

We received a seven page handout outlining the schools plan. You can view it
here
in .PDF format.
Ok, so it sounds like I am complaining about something good the school is attempting to do. Wrong! That's not it at all. I am all for the fact that the school wants to implement an enviroment that is more safe for our children.
What I am against is the fact that the school is pushing us to have our children walk to school. This program needs to be thought out further before they implement it. Children who are in the First, Second, or even Third grade should not be left alone to walk to school unless it is absolutely necessary. It is a parents choice and NOT the schools. Are they going to provide security or protection for my children as they walk to school? No.
There are dangerous and vile people out there who prey on kids walking alone. I went to
Megan's Law
website and put in the two zip codes that cover my general area and the area my children would have to pass through to get to school. The database located three individuals that my kids would have to go right by twice a day. Uh, I don't think so!
This blog called both Regency Park Elementary School as well as Rio Linda Union School District for comment. Both declined. One cited that they were looking in to the matter due to the influx of telephone calls.
In closing, I am in no way against our children getting additional excercise. Nor am I against a safer enviroment around vehicles. I am against the school trying to persuade parents to have their children walk to school so they have less vehicles to deal with.
On the "Driving Around the School" map on the PDF, they make a statement, Driving around the school, "IF YOU MUST", follow this path. "IF I MUST", you're damn skippy I must...
---
February 21, 2006
Morales Gets Temporary Stay
Michael Morales, 46, is scheduled to be put to death by lethal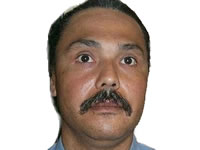 injection at San Quentin State Prison for murdering 17-year-old Terri Winchell of Lodi in 1981 by trying to strangle her, beating her with a hammer and stabbing her. Morales was also convicted of raping her.
In one appeal, Morales claims his death penalty was based on allegedly false testimony by a jailhouse informant.
That appeal and an emergency motion for a stay of execution were filed with the U.S. Supreme Court this morning by attorney David Senior of Los Angeles. Morales has admitted he murdered Winchell, but claims he should not have been given a death penalty.
In the second high court appeal, Morales claims the state's procedure for lethal injection executions is unconstitutional because there is a risk that he could suffer extreme pain. Attorney Richard Steinken of Chicago said defense
attorneys plan to file that appeal in the high court in early afternoon.
As a result of a ruling by U.S. District Judge Jeremy Fogel in San Jose last week, the state for the first time will have an anesthesiologist present in the execution chamber to make sure Morales is unconscious and unable to feel pain.
From FOXnews:
SAN QUENTIN, Calif. — The state on Tuesday postponed indefinitely the execution of a condemned killer amid a court battle over the state's method of lethal injection and the role doctors may play in the death chamber.

State officials notified the federal courts they would be unable to comply with a judge's order to have a medical profesional administer a lethal dose of barbiturate to Michael Morales in the execution chamber, a court spokeswoman told The Associated Press.

Morales, 46, was supposed to die by lethal injection at 12:01 a.m. But the execution was put off until at least Tuesday night after the anesthesiologists objected that they might have to advise the executioner if the inmate woke up or appeared to suffer pain.

"Any such intervention would clearly be medically unethical," the doctors, whose identities were not released, said in a statement. "As a result, we have withdrawn from participation in this current process."

U.S. District Judge Jeremy Fogel gave prison officials a choice last week: bring in doctors to ensure Morales was properly anesthetized, or skip the usual paralyzing and heart-stopping drugs and execute him with an overdose of a sedative.
It's amazing to me that a US District Judge could have ZERO common sense. To issue this type of order, must have the family and friends of Terri Winchell up in arms. I would be willing bet that Morales did not give Terri Winchell anesthesia...
---
November 16, 2005
Eric Hogue Weighs In
As most of you are aware, there has been an uproar in the Blogosphere regarding a post made by fellow blogger (and good friend) Sacto Dan. Sacto Dan wrote a post entitled "Republican State Senator Cox Backs Mileage Tax". Sacto Dan issued a correction and then during an interview on The Eric Hogue Show, Senator Cox stated his position and a few shots were taken.
I put up a post on this issue and the comments have been flying.
In a very well written post, local talk show host Eric Hogue gives us his take on the Sacto Dan and Senator Cox situation.
When you bloggers, (and that includes me, as a blogger and a radio talk show host), decide to 'enter the arena' and offer opinions, comments and judgments on elected political officials - and they are wrong - you must expect the venom that comes in return, you must eat crow, crow that is cooked by someone else...it may not taste good!

(Skip)

Dan's headline should have asked a question, rather than make a statement. The question that should be asked, why didn't Sacto Dan call the Senator's office and ask for a clarification? Dan's headline was 'misleading', and he knows it know...and to Dan's credit, he posted a correction immediately Monday morning.

(Skip)

I told Dan, ''you'll have to grow thick skin my friend", and I believe Sacto Dan will. Sacto is determined to be relevant, and being such means you may not be liked, but you will be respected. In the end, the Senator needs to offer no apology.
My final word:
Should Sacto Dan have phrased the title of his BLOG differently? Maybe.
Should Senator Cox have made it personal? No.
But the wonderful thing about this country, everyone can have their own opinion and the ability to voice it...
---
November 14, 2005
California State Senator Questions Sacto Dan's Literacy
In what I thought was a very petty display of leadership, Senator Dave Cox-R
questioned the literacy of local fellow blogger Sacto Dan.
Sacto Dan wrote a post entitled "Republican State Senator Cox Backs Mileage Tax". In the post there is an excerpt of the Senator's November 2005 Newsletter. I read the excerpt and it certainly sounds to me that Cox supports the Mileage Tax.
So today on the Eric Hogue Show, I hear Eric interviewing Senator Cox. I
must tell you that I have two issues here:
The first issue is the simple fact that Senator made this personal by
attacking Sacto Dan's literary skills. The second issue is how Eric Hogue
bowed down to Cox. I have always been a fan/supporter of Hogue, but I was
shocked to hear Hogue's comments.
Here is a brief transcript (to my best recollection) this morning on The Eric
Hogue Show:
EH: "You're simply looking for input here, this is not an endorsement"

SC: "...It's regrettable that some people do not have the ability to read and
comprehend."

EH: "Well, and once again, we put Sacto Dan out in the hallway and we're
beating him with a wet noodle. And he will be making a statement here short
order"

Well I think the Senator did a very poor job of choosing his words. Sacto
Dan simply made an observation based on the comments in the Senator's
Newsletter. Hogue led the Senator by his "You're simply looking for input
here, this is not an endorsement" comment.
They go on to discuss the Governors $50 billion dollar bond issue.
In closing Hogue and Cox fire off these comments:
EH: "State Senator, anytime you want me to bang on the Blogosphere, you call my show. I got your back"

SC: "Well, you know. Listen, I think, I just give enormous credits to the bloggers and the work they do. But it's disappointing when you have someone
who can't read and then makes assumptions about what you said. I have real
problems with that."

After searching the Internet, I finally found a copy of Senator Cox's
November 2005 Newsletter. Hearing the passion in his voice this morning
when he was talking to Eric Hogue, and reading his newsletter, I too believe
he the supports the tax.
Sacto Dan has the same letter on his blog as I am showing here. Comments the Senator made in his November 2005 Newsletter:
Financing Transportation Infrastructure

For several years now, experts in transportation finance have been talking
about the antiquated way we finance transportation infrastructure, both roads
and transit. Basically the problem is that we rely on a combination of sales
and gasoline taxes to provide funds, but the taxes do not keep up with
inflation -- especially in the cost of construction of transportation
facilities -- or with the increased fuel efficiency of cars. It also makes no
sense if we decide that we want to reduce the use of fossil fuels such as
gasoline to improve our air quality.

I recently read an interview with Professor Martin Wachs of U.C Berkeley, a
respected expert on transportation issues. He is the former Director of the
Institute of Transportation Studies. Professor Wachs points out that in order
to increase transportation funds, we currently are in the position of
advocating for increased sales of gasoline. He advocates a switch to a more
direct user fee based on the number of vehicle miles driven by each vehicle
registered in the state. There are technologies being tested which would
report a vehicle's miles driven and collect a fee while not maintaining a
record of overall usage. This would satisfy privacy concerns. He also
advocates the use of High Occupancy Toll (HOT) lanes, which would create
additional highway lanes and charge for their usage based on the time of day.

The leaders in the Legislature are talking about ways to increase funds for
our state's infrastructure needs. There will be large bond proposals
introduced in the Legislature early next year.

I am interested in your reaction to these types of proposals. Should we sell
more bonds? Should we raise gas or sales taxes? Or should we consider more
innovative approaches? Send me your thoughts on the different methods of
financing this critical need.

It sounds to me like the Senator is asking for input and at the same time
voicing his support of this Mileage Tax.
I think Senator Cox needs to issue an apology to Sacto Dan and display it on
the Senator's website. But that's just my opinion.
---
November 04, 2005
Prop. 73
I think my fellow bloggers have done an excellent job of covering the special election here in California. But, there is one proposition that as a parent I must endorse.
Proposition 73:
What can I say...
---
October 31, 2005
Trick or Treat Street
Lastnight, at the Arden Fair Mall, they held their "Trick or Treat Street". Basically this is businesses in the community helping children by giving back. This was sponsored by Adren Fair Mall, 107.9 FM The End, and Kindercare.
I would like to start off by saying that I think they did a fabulous job in organizing this function. There had to be a couple thousand children in attendance, and of course there my wife and I were with our two youngsters. Usually when it comes to a community function, I will take it for what it's worth and not complain. However, in this case, since this is my own blog, I am going to take this opportunity to complain a bit.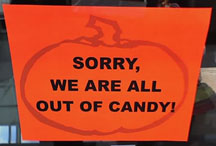 I was surprised to see that there were alot of orange papers hanging in the windows of quite a few merchants. On the piece of paper, was the outline of a pumpkin, and the words "Sorry, we are all out of candy". I found this a bit odd as the function just started and they were all out. It wasn't like they had a mad rush, ran out of candy, and slapped up a hand written sign. No, these signs were prepared in advance. So as we made our way around the mall, there were more and more of these signs in windows.
I thought, ok, smaller stores may not have the purchasing power ($40 - $50) that the large anchor stores would. Well guess what, not one of the anchors gave out candy. I was floored. At this mall Sears, Macys, JC Penny, and a Nordstroms are the anchors.
Don't get me wrong, I am not trying to get something for nothing. But if the mall is having a function geared toward children, I think the anchor stores should participate. I have been in retail management for the past 15 years, and every year we do something for the kids to help make their Halloween a safe one. Listed below are just a few of the stores that did not participate. The list is NOT complete as I could not remember all of them, but here are a few:
Sears
JC Penny
Macys
Nordstroms
Pearl Vision
Zumiez
Lady Foot Locker
Kids Foot Locker
Bonsai Gifts
Apple
Radio Shack (Handed out candy, but one girl kept telling the other, "Hurry up and give them hand fulls so we can quit early)
Nextel
As a parent I am very thankful to everyone that participated in this function. As a consumer, I am very disappointed in the stores that did not. I will certainly be voicing my disappointment in those stores to friends and family.
---
July 29, 2005
Your Tax Dollars at Work...
It appears that I am not the only person with this opinion on the subject. Fox News is reporting that Senate, when they return, will be taking up this very issue. Only on a Federal basis. But it is a start.
Currently there are 560 inmates on Death Row (condemned) at San Quentin Prison. I seem to recall reading that the average cost per inmate is $20,000 a year. That is $11,200,000 per year that we're spending to keep these people alive. If they have been convicted, had an opportunity for an appeal, lost the appeal, then carry out the sentence and use those monies for education or something constructive. Don't get me wrong. Everyone deserves their day in court and to a fair trial, but at some point enough is enough.
---