April 28, 2006
Spanish National Anthem???
Before I get in to this post, I would like to make it clear that while I have no personal issues with individuals who come in to this country and become a legal citizens. My beef is with the people who come in (and not just from Mexico) and expect to live off of our tax dollars.
The United States of America is a country made up of all kinds of people. All nationalities, all races. BUT, this is The United States of America. It is not Mexico, it is not Canada, or China, or Japan, or Iraq, or Russia.
Today, a version of the Star Spangled Banner was released in Spanish. Ok, this pisses me off. If you went to any of the countries I mentioned earlier and asked them to allow an English version of their national anthem, we would be would be laughed out of there country.
Yet it is permissible to do this here. Oh, but we cannot complain about anyone being in our country illegally.
From FOXnews:
MIAMI — British music producer Adam Kidron says that when he came up with the idea of a Spanish-language version of the U.S. national anthem, he saw it as an ode to the millions of immigrants seeking a better life.

But in the week since Kidron announced the song — which features artists such as Wyclef Jean, hip-hop star Pitbull and Puerto Rican singers Carlos Ponce and Olga Tanon — it has been the target of a fierce backlash.

Some Internet bloggers and others are infuriated by the thought of the "Star-Spangled Banner" sung in a language other than English.

"Would the French accept people singing the La Marseillaise in English as a sign of French patriotism? Of course not," said Mark Krikorian, head of the Washington-based Center for Immigration Studies, a think tank that supports tighter immigration controls.
Today President Bush came out against the Spanish version with the following:
"I think the national anthem ought to be sung in English, and I think people who want to be a citizen of this country ought to learn English and they ought to learn to sing the national anthem in English."

He made his remarks on the matters during a wide-ranging briefing with reporters.

"I think people who want to be citizens of this country ought to learn English," Bush said.
Well I don't understand something then, if Bush is pro English, then why would we need a version of the White House website written in Spanish? It's not written in any other language.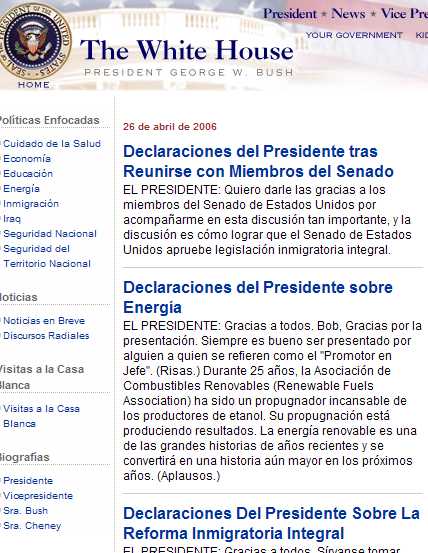 H/T Michelle Malkin for the pic.
President Bush, practice what you preach and have the Spanish of your website removed.
---
April 27, 2006
How Do Mexican Citizens Really Feel?

I wrote a post on the L.A. Immigration Protest that is supposed to take place on Monday, May 1st. There are a couple of individuals who left comments on that post that are seriously raising the question of how many Mexicans are in agreement with Osama bin Laden?
I normally do not engage with individuals who comment on my blog, but I felt I must disclose this...
i can only hope you country burns in hell.. and that the US Immigration Office burns too, with YOUR heritage.

oh by the way, not only Osama wants ya'll dead.. so watch your back.

you live in your fancy "world" only because you have them wetbacks working their asses off for you.. and you have us the REAL americans buying your products, but HEY that's not gonna happen anymore, if you don't sell you will crash.. or what? can you support that too?

all i can say is F U K America.. thanks for giving me the Freedom of speech assholes... there's my email for anyone with enough brains to write.
|| Posted by Xavier, April 27, 2006 08:31 AM ||
Xavier invites anyone who wants to write: e_xavier_@hotmail.com
It appears that Xavier has a follower:
Yeah!! that's my man Xavi! You heard it bithces, watch your asses. May 1st, you will not believe your eyes when you see ALL the real cultures standing together in such a beautiful cause. I hope, and i strongly believe it will give very good results. || Posted by CuTY, April 27, 2006 08:38 AM ||
CuTY left the following contact information: c_u_t_y_@hotmail.com
While I am not posting their IP address, both IP's are located in Mexico.
Folks, the time has come. We MUST secure our borders. Otherwise, our next act of terrorism could very easily come from a country we thought to be somewhat friendly...
---
April 26, 2006
I'm Going To Mexico, And I wonder....
...if I will be treated in Mexico as they are treated here??? I received this as a joke from a friend, but it tells a true story.
Dear President Bush:

I'm about to plan a little trip with my family and extended family,
and I would like to ask you to assist me. I'm going to walk across
the border from the U.S. into Mexico, and I need to make a few
arrangements. I know you can help with this.

I plan to skip all the legal stuff like visas, passports,
immigration quotas and laws. I'm sure they handle those things the
same way you do here.

So, would you mind telling your buddy, President Vicente Fox, that
I'm on my way over? Please let him know that I will be expecting
the following:

1. Free medical care for my entire family.


2. English-speaking government bureaucrats for all services I might
need, whether I use them or not.


3. All government forms need to be printed in English.


4. I want my kids to be taught by English-speaking teachers.


5. Schools need to include classes on American culture and history.


6. I want my kids to see the American flag flying on the top of the
flag pole at their school with the Mexican flag flying lower down.


7. Please plan to feed my kids at school for both breakfast and
lunch.


8. I will need a local Mexican driver's license so I can get easy
access to government services.


9. I do not plan to have any car insurance, and I won't make any
effort to learn local traffic laws.


10. In case one of the Mexican police officers does not get the
memo from Pres. Fox to leave me alone, please be sure that all
police officers speak English.

11. I plan to fly the U.S. flag from my house top, put flag decals
on my car, and have a gigantic celebration on July 4th. I do not
want any complaints or negative comments from the locals.


12. I would also like to have a nice job without paying any taxes,
and don't enforce any labor laws or tax laws.


13. Please tell all the people in the country to be extremely nice
and never say a critical word about me, or about the strain I might
place on the economy.

I know this is an easy request because you already do all these
things for all the people who come to the U.S. from Mexico. I am
sure that Pres. Fox won't mind returning the favor if you ask him
nicely.

However, if he gives you any trouble, just invite him to go quail
hunting with your V.P.

Thank you so much for your kind help.

Sincerely,
SR

---
April 25, 2006
It's Tony Snow...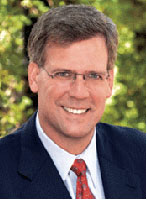 Last week, this blog reported that Tony Snow would be the next White House Press Secretary. Read more here. It looks like our crystal ball was right.
FOXnews is making the announcement on their site as I type.
WASHINGTON — Tony Snow will be named new White House press secretary on Wednesday morning, FOX News has learned. Snow is expected to be at the White House for the announcement. He has been mulling the offer for the last several days.

I expect to see him at the podium in just a few days, in the press room at the White House," Fred Barnes, editor of The Weekly Standard and a FOX News contributor, said Tuesday.

The talk radio host was given a clean bill of health by his oncologist Tuesday, following a CAT scan and other tests that were undertaken last Thursday. Sources said Snow was President Bush's first choice, but he needed the all-clear from his doctors before he takes the job. Snow is recovering from colon cancer.

Good luck Tony!!!
---
April 20, 2006
Illegals Out On Bond???
Looks like the illegal aliens who are being caught are then deported or let go on bond. Yeah, that make sense to me. Let them go on bond; "Honest your honor, I will show up for court and deportation". Oh yeah, I have a nice piece of property in downtown Manhattan I am looking to sell too, cheap!
Michelle Malkin has a piece that talks about this very issue.
Of the 1,187 detained workers, 275 have already been deported to Mexico. The rest are being processed for deportation, although many may be released on bond.
We either need to get serious about illegal aliens from all countries, or just open our borders.
---
April 19, 2006
Scott McClellan Resigns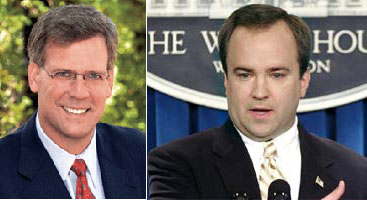 With only days on the job, new C.O.S. Josh Bolton isn't wasting any time in making changes to the current Staff.
Today, White House Press Secretary Scott McClellan resigned.
"I'm ready to move on," McClellan said while standing next to President Bush on the South Lawn of the White House.

McClellan, who has served as Bush's spokesman and defender during an especially trying time in the presidency, indicated that his decision was part of an ongoing personnel shake-up in the administration.

"The White House is going through a period of transition; change can be helpful, and this is a good time and good position to help bring about change," he said.

Bush said McClellan had performed a "job well done," and the two touched on their long relationship predating the presidency.

"I thought he handled his assignment with class, integrity," the president said. "It's going to be hard to replace Scott, but nevertheless he made the decision and I accepted it. One of these days, he and I are going to be rocking in chairs in Texas and talking about the good old days."

This blog has learned that Bush plans to tap current FOXnews' Tony Snow for the assignment. While this may be speculation, we feel it will happen.
Stay tuned for breaking details...
---
April 18, 2006
L.A. Immigration Protest
It appears that the City of Los Angeles is potentially going to experience a rough day. There is a plot being planned to shut down L.A. Michelle Malkin has a great post on this topic. Read it hear. You may want to go out of your way to avoid the L.A. region.
Apparently, May 1st is the day in which many individuals are planning an immigration boycott.
Here is the letter from their homepage:
Event Details: Support the Fight for Immigrant Workers' Rights Justice for Hurricane Katrina Survivors The People United Will Never Be Defeated!

Dear Sisters and brothers,

We call on you to endorse and organize for the May 1 Great American Boycott 2006 in support of Amnesty and full rights for undocumented workers called by the March 25th Coalition Against HR4437 and many other immigrant organizations. (The May 1 national call is included below). In NYC, The May 1 Great American Boycott 2006 Coalition will rally and march on Monday, May 1 starting at 4:00 pm in UNION SQUARE, on 14th Street in Manhattan.

Be in the Streets on April 10, the national day of action in support of immigrant rights, and in NYC on April 29 for the March for Peace, Justice, and Democracy - and then on to May 1.

This is an issue that all working people and progressive organizations must embrace. The struggle for immigrant rights is a vital part of the struggle against racism and repression, and for the full rights of all working people. Let's all be in the streets on May 1 in support of the call coming from the Los Angeles March 25th Coalition Against HR4437. Organize local protests on May 1. Organize boycotts and student walkouts. Connect local issues that you're organizing around with the struggle for Immigrant Rights. We strongly encourage all who are organizing May 1 events to make sure that their program and demands reflect solidarity with immigrant workers and Hurricane Katrina Survivors. Let's build on the unity and momentum. To Endorse the NYC May 1st Action...

The NY Area May 1 Great American Boycott Supporters


Un llamado en apoyo al 1? de mayo de 2006
"El Gran Paro Americano" por Derechos Inmigrantes

Reuni?n y Marcha
Lunes 1? de mayo
4:00 pm
Union Square

Respalde la lucha por derechos de obreros inmigrantes
Justicia para sobrevivientes del hurac?n Katrina
?El Pueblo Unido Jam?s ser? vencido!

Queridas Hermanas y Hermanos,

Le invitamos a endosar y a organizar para "El Gran Paro Americano 2006" ?ste 1? de mayo en apoyo a amnist?a y derechos completos por trabajador@s indocumentad@s llamado por March 25th Coalition Against HR4437 y muchas otras organizaciones inmigrantes. (El llamado nacional del 1? de mayo es incluido abajo). En la ciudad de Nueva York, la coalici?n del 1? de mayo del Gran Paro Americano 2006 se reunir? y marchar? el lunes 1? de mayo comenzando a las 4:00 P.M. en "UNION SQUARE" en la calle 14 en Manhattan.

Mant?nganse en las calles el 10 de abril, el d?a nacional de acci?n respaldando derechos inmigrantes, tambi?n el 29 de abril en la ciudad de Nueva York en la marcha por la Paz, Justicia, y Democracia - y luego al 1? de mayo.

?ste es un asunto que todo el pueblo obrero y organizaciones progresivas deben abrazar. La lucha por derechos inmigrantes es una parte vital de la lucha contra el racismo y la represi?n, y por derechos completos del pueblo trabajador. Tod@s estemos en las calles el 1? de mayo en apoyo al llamado que viene de la coalici?n de Los ?ngeles llamado March 25th Coalition Against HR4437. Organicen protestas locales ?ste 1? de mayo. Organicen paros y huelgas estudiantiles. Hagan esos enlaces de asuntos locales que usted est? organiz?ndose con la lucha por derechos inmigrantes. Animamos fuertemente a tod@s l@s que est?n organizando los acontecimientos del 1? de mayo que est?n cierto que su programa y demandas reflejen solidaridad con trabajador@s inmigrantes y sobrevivientes del hurac?n de Katrina. D?jenos construir en la unidad y la energ?a. Para Endosar la acci?n del 1? de mayo en NYC...

Partidarios Del Gran Paro Americano 1? de Mayo ?rea Nueva York

Hopefully the city and local businesses are making the necessary preparations to handle this. Also, I am sure there will be MANY illegals aliens present. I can only hope that the US Immigration Office is present.
---
April 16, 2006
Tehran Takes On The West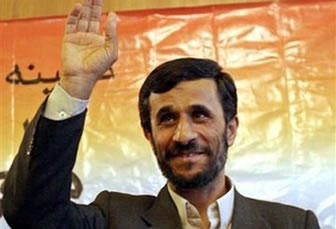 As the dispute over Iran's nuclear program is moved to the United Nations Security Council, Tehran is stepping up its rhetoric against the West. Facing action by the world body, Iran says it has 40,000 trained suicide bombers ready to attack.
The main force, named the Special Unit of Martyr Seekers in the Revolutionary Guards, was first seen last month when members marched in a military parade, dressed in olive-green uniforms with explosive packs around their waists and detonators held high.
Dr. Hassan Abbasi, head of the Centre for Doctrinal Strategic Studies in the Revolutionary Guards, said in a speech that 29 Western targets had been identified: "We are ready to attack American and British sensitive points if they attack Iran's nuclear facilities." He added that some of them were "quite close" to the Iranian border in Iraq.

In a tape recording heard by The Sunday Times, Abbasi warned the would-be martyrs to "pay close attention to wily England" and vowed that "Britain's demise is on our agenda."
This should be considered as an act of aggression and an act of war.
The fresh fears over a possible U.S. attack on Iran's nuclear sites helped attract volunteers during its latest recruitment drive, Mohammad Ali Samadi, spokesman for the Committee for the Commemoration of Martyrs of the Global Islamic Campaign, said.

"Because of the recent threats, we have started to register more volunteers since Friday," Samadi told Reuters by telephone.

"Some 200 people have registered to carry out operations against our enemies. America and Britain are definitely considered enemies."

Chanting "Death to America" and "Nuclear technology is our right", volunteers registered their names at the former American Embassy in southern Tehran on Sunday.

"We will give a good lesson to those who dare to attack our country," said Ali, a 25-year-old masked volunteer, after filling out registration form.

When asked why he had covered his face, Ali said: "I do not want to be recognized when traveling abroad to harm American and British interests."
President Mahmoud Ahmadinejad warned last Friday that Israel was heading toward "annihilation." He was speaking at a Tehran conference on Palestinian rights aimed at promoting Iran as a new Middle Eastern superpower.
It is clear to me that Mahmoud Ahmadinejad is a lunatic. As they say in the movies "Kick the tires and light the fires". We need to get our planes in the air and turn Iran in to a giant parking lot. They are clearly plotting our demise.
Sactodan has a post discussing what it's gonna take for the US to get going.
---
April 15, 2006
A Great Blogger Departs The Blogosphere
Well, the Blogosphere is losing a great writer. Eric, who has his personal blog at Eric's Grumbles, and the founder of both The Liberty Papers and Life, Liberty, Property is leaving the Blogosphere.
I owe much of blog to Eric. From his site design to HTML guidance. I will definitely miss his writings as it was a daily read of mine.
I sincerely wish Eric and his family the best as he takes on his new position.
---
April 12, 2006
Welcome To The...
United States of America Los estados unidos de América.
I have not gotten in to the Immigration piece as many of my fellow bloggers have already done a great job writing about it.
I wrote a post about the Kids Walking Out Of School. But other than that, I have not gotten in the mix. But I must say that this is becoming increasingly ridiculous.
Here is a peek in the future courtesy of The Sacramento Republicrat crystal ball:
Here is our country now: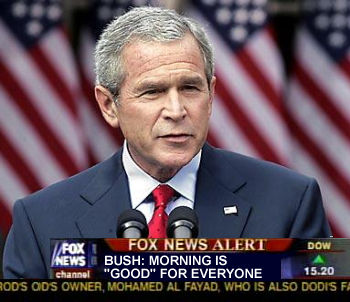 Here is our country before too long: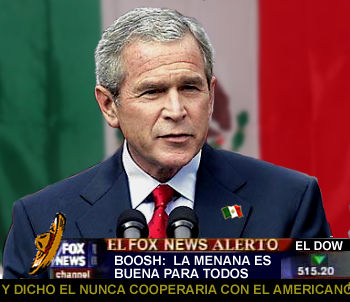 H/T: Wuzzadem (for the pics)
We need to have U.S. Immigration on stand by for these protests and marches. I would suspect that after a couple of marches and the U.S. Immigration cleaning house, people that are in this country illegally would re-consider protesting and marching.
Lastly, I have been hearing grumblings about communities and individuals not wanting to display the US flag. In certain communities they say they should be able to fly their home countries flag in place of Old Glory. Here's what I say to that: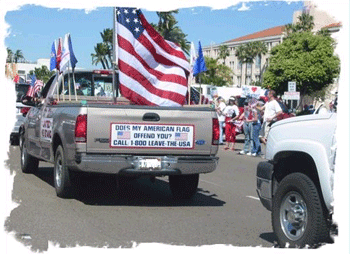 ---
April 04, 2006
Homeland Security Sex Bust
Department of Homeland Security Deputy Press Secretary Brian Doyle busted! Doyle was charged with trying to seduce a child and transmission of harmful material to a minor.
Doyle, of Silver Spring, Md., had a sexually explicit conversation with what he believed was a 14-year-old girl whose profile he saw on the Internet on March 14, the Polk County Sheriff's Office said in a statement.

The girl was an undercover Polk County Sheriff's Computer Crimes detective, the sheriff's office said.

Doyle sent the girl pornographic movie clips and had sexually explicit conversations via the Internet, the statement said.

During other online conversations, Doyle revealed his name, that he worked for the Homeland Security Department and offered his office and government issued cell phone numbers, the sheriff's office said.
On several occasions, Doyle instructed her to perform a sexual act while thinking of him and described explicit activities he wanted to have with her, investigators said.

Doyle later had a telephone conversation with an undercover deputy posing as the teenager and encouraged her to purchase a web camera to send graphic images of herself to him, the sheriff's office said.

He was booked into Maryland's Montgomery County jail where he was waiting to be extradited to Florida, the sheriff's office said.
---
Michelle Malkin Under The Microscope???
Michelle Malkin has a post on bloggers questioning her work ethics and writing skills.
Apparently the blog Is That Legal has a post that is not only insane, but is an outright personal attack on Michelle Malkin's work ethic and talent.
I will admit that while I may not agree with Michelle 100% of the time (probably in the 90's), she certainly does not deserve this kind of attack.
Law Prof. Eric Muller has listed the times that Michelle blogs and insinuates Michelle does not write all of her own posts. This is very weird...
A comment from Talkleft.com:
Add me to the list. In fact, it's creepy, almost like cyber-stalking. (Although Michelle goes a little overboard in calling him "insanely obsessed" and "deranged.")
I do not know Prof. Muller, it is clear that he has too much time on his hands.
---
April 03, 2006
Jury Gives Ok To Pursue Death In Moussaoui Case
Zacarias Moussaoui is eligible to receive the death penalty for his part of the September 11th attacks. Thursday, the jury will begin deliberating on whether or not to recommend death or life in prison.
Surrounded by U.S. Marshals, Moussaoui refused to stand and showed no reaction as the verdict was read. After jurors left the courtroom he shouted, "You'll never get my blood. God curse you all."
The only blood of Moussaoui I want, is on the needle...
---