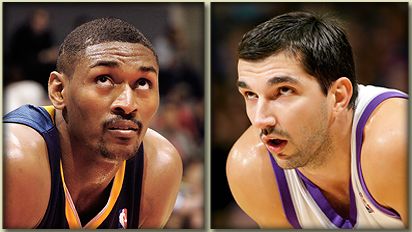 Today, the Sacramento Kings traded Peja Stojakovic for Indiana Pacer Ron Artest. I think this is huge mistake. Artest has proven to be a disgrace to the NBA.
That's exactly what we need. A player who spends the majority of his time warming the bench due to suspensions. Up until last year, I have always has complete faith in Geoff Petrie, but he seems to be out of control.
"Ron Artest is going to bring a dimension to this team that we haven't had in a long time, maybe since I've been in Sacramento, in terms of his defensive abilities, his presence on the court, his versatility, his size and strength," Petrie said. "Given where we are at this point of the season, we think he'll come in here and really make an impact."
It feels to me like the Kings are in self destruct mode. I have only been a Kings fan for a short time, about 8 years, I have seen the "Dream Team" being torn apart.
Back in the day, before we lost Scot Pollard, Hedo Turkoglu, Vlade Divac, Chris Webber, Doug Christy, Bobby Jackson and now, Peja Stojakovic., we had a good team and we had depth. Now, we have a snowballs chance in hell.
Granted, the Kings had their share of injuries and issues. But they had the potential to go all they way. Now they have the potential to be lousy. They might as well as trade off Bibby.
The Kings current standing:
18-24, Fifth in the Pacific
So long Peja, you will be missed...
---