January 26, 2006
Kerry and Kennedy Threaten Filibuster
Senator John Kerry and others are threatening a filibuster. Oh boy, here we go again...
From FOXnews:
WASHINGTON — Massachusetts Sens. John Kerry and Edward Kennedy, along with a small number of other Senate Democrats, have threatened a filibuster to block the vote for Judge Samuel Alito's confirmation to the U.S. Supreme Court, FOX News has learned.

"Judge Alito has consistently made it harder for Americans to have their day in court. He routinely defers to the power of the government, no matter how extreme. And he doesn't believe women have a right to privacy that's protected by the Constitution," Kerry said in a statement.

"The president has every right to nominate Samuel Alito to the Supreme Court. It's our right and our responsibility to oppose him vigorously and to fight against this radical upending of the Supreme Court," he added before announcing he would return to Washington early on Friday from Davos, Switzerland, where a Senate delegation was attending the World Economic Forum.

But a senior Democratic leadership aide told FOX News on Thursday that Senate Minority Leader Harry Reid and a majority of Democrats "do not support this action by Kerry and Kennedy. It is not politically advantageous for us."

The Senate's No. 2 Democrat said earlier in the day that while he opposes Alito, he thought it unlikely that Democrats would try to mount a filibuster.

"Having made a count, I have come to the conclusion that it is highly unlikely that a filibuster would succeed," said Senate Minority Whip Dick Durbin, D-Ill.

"There's been adequate time for people to debate," Reid added.

But on the Senate floor late Thursday, Kennedy said support is growing for a filibuster, and Durbin, along with Sens. Debbie Stabenow of Michigan and Paul Sarbanes of Maryland would back an attempt.

Two Democrats announced Thursday that they would vote for the 55-year-old Alito: Sen. Robert Byrd of West Virginia and Sen. Tim Johnson of South Dakota. Both represent states that Bush carried in the 2004 presidential election.
In a speech on the Senate floor, Byrd, the longest-serving Democrat in the Senate, said he refused "simply to toe the party line when it comes to Supreme Court justices."

"My considered judgment ... leads me to believe [Alito] to be an honorable man, a man who loves his country, loves his Constitution and a man who will give of his best," said Byrd, who faces re-election in November. "Can we really ask for more?"

Johnson said that while he was "troubled" by some of Alito's views, "I cannot accept an argument that his views are so radical that the Senate is justified in denying his confirmation."

He also said he would oppose any filibuster of the nomination.

---
January 25, 2006
Sacramento Queens Kings Make Royal Mistake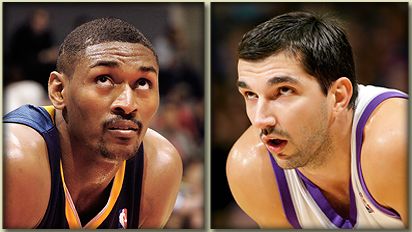 Today, the Sacramento Kings traded Peja Stojakovic for Indiana Pacer Ron Artest. I think this is huge mistake. Artest has proven to be a disgrace to the NBA.
That's exactly what we need. A player who spends the majority of his time warming the bench due to suspensions. Up until last year, I have always has complete faith in Geoff Petrie, but he seems to be out of control.
"Ron Artest is going to bring a dimension to this team that we haven't had in a long time, maybe since I've been in Sacramento, in terms of his defensive abilities, his presence on the court, his versatility, his size and strength," Petrie said. "Given where we are at this point of the season, we think he'll come in here and really make an impact."
It feels to me like the Kings are in self destruct mode. I have only been a Kings fan for a short time, about 8 years, I have seen the "Dream Team" being torn apart.
Back in the day, before we lost Scot Pollard, Hedo Turkoglu, Vlade Divac, Chris Webber, Doug Christy, Bobby Jackson and now, Peja Stojakovic., we had a good team and we had depth. Now, we have a snowballs chance in hell.
Granted, the Kings had their share of injuries and issues. But they had the potential to go all they way. Now they have the potential to be lousy. They might as well as trade off Bibby.
The Kings current standing:
18-24, Fifth in the Pacific
So long Peja, you will be missed...
---
Howard Stern Siriusly Rocks Satellite Radio
From time to time I have been known to listen to Stern. Not because I particularly enjoy listening to him talk about body parts, going doody or throwing slices of bologna at womens butts. Primarily because I wanted to hear what was coming next.
I have had an XM subscription for about 3 1/2 years now. Actually multiple subscriptions. With Stern going to Sirius, I am moving? Good question. Am I considering the move because that's where Stern is? No. I am considering making the jump simply because Sirius seems to have more of what I listen to. The only thing that Sirius needs, is FOXnews.
Sirius currently has NBA, NFL, and beginning in 2007 they will have Nascar. I prefer the line up and genre of Sirius.
The only draw back is that currently all of my equipment is XM. Don't get me wrong, XM I like XM. Just going forward, I will certainly be looking at Sirius equipment.
There has been alot of "hoop la" about Stern going to Sirius and their paying him somewhere in the neighborhood of $500 million. Here is an excerpt from CNN-Netscape:



The rise of satellite radio is most obviously reflected in the dramatic subscriber figures of the two US companies that pioneered the service in 2001, XM and Sirius.

By the end of 2003, they enjoyed a combined total of just over one million subscribers. That figure ballooned to more than four million in 2004 and nine million last year, with an estimate for 2006 of 15 million.

One of the greatest spurs to growth was the 2004 coup when Sirius lured frank-talking radio host Howard Stern away from terrestrial radio giant CBS

Since signing Stern, who was infuriated by corporate pressure over the more graphic -- and usually sexual --- content of his show, Sirius has seen its base grow from 600,000 to 3.3 million people.

Tell me that's not a
Sirius
Return on Investment...
---
January 22, 2006
My Favorite TV Show Got Cancelled
Well, I just found out that my favorite TV show The West Wing, was just cancelled.
While I may not have always agreed with the political decisions and direction the show took, I very much enjoyed the show and cast. Apparently once the show moved to Sunday nights, the ratings tanked.
The decision to cancel it was made before actor John Spencer, who played former presidential chief of staff Leo McGarry, died of a heart attack Dec. 16, said Kevin Reilly, NBC entertainment president.

"There's a point when you look at the ratings and say, it feels like it's time," Reilly said.

The series finale will be May 14, preceded by a one-hour retrospective. The campaign to replace the fictional Josiah Bartlet as president will be settled, NBC said.
---
Ok, So Mrs. Republicrat Took Me To The Movies...
So last night, my wife decided she wanted to see a movie. So being the great guy I am, I obliged.
She decided she wanted to see Brokeback Mountain. I know what you're thinking. They same thing I was. Uh, hmm, I need to mow the lawn, clean out the garage, oh I really need to help you color your hair.
None of those excuses worked and off we went.
So lets get to it. The movie was good. Going in I was not sure what to expect other than all of the rumors about it being a gay porno.
I will admit, it had a few sexual/passionate scenes. For those of you that have seen it, I will never look at spitting on my hand the same way again!
Anyway, I can certainly see how it won so many awards. It truly was a good flick.
---
January 20, 2006
New York Post Nails It!
On the front page of the New York Post, well, the picture says it all...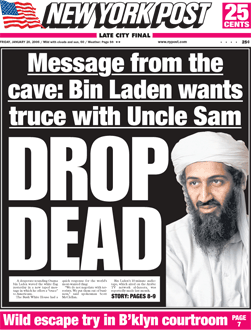 ---
January 19, 2006
School Teacher Gets No Jail Time For Rape
A former Middleboro High School teacher pleaded guilty Tuesday to raping one of his teenage students and possession of child pornography, but he won't spend any time in jail.
Gregory Pathiakis, 26, of Brockton, who quit his teaching job after school officials questioned his off-duty contact with students, pleaded guilty in Brockton Superior Court to one count of rape of a child, enticement of a child under 16, five counts of possession of child pornography and one count of distribution of harmful material to a child.
Judge Suzanne V. Delvecchio gave Pathiakis a suspended, 21/2-year jail term, followed by five years probation — rejecting the prosecutor's plea for at least four years in state prison.
Pathiakis is also banned from working with children or any volunteer activities involving children.
Prosecutors said they were disappointed by the sentence but stopped short of openly criticizing the judge's decision not to lock up Pathiakis, who is now required to register as a sex offender.
"That is certainly disheartening to see that there is not some sort of incarceration," Plymouth County District Attorney Timothy J. Cruz said. "He was in a position of authority over these kids."
Flanagan said the boy went to Pathiakis' apartment where a sex act occurred. There was no force involved, but a 15-year-old, under law, cannot consent to any sexual relations. The boy initially told authorities he was attacked in Pathiakis' Jeep while at a Brockton parking lot.
The boy's father, reading a statement the teen prepared for the court, urged the judge to send Pathiakis to jail.
"I feel you deserve jail," the boy wrote in a statement read by his father. "You are a disgrace to all teachers."
Assertions are being made that if it would not have been a homosexual act, that Pathiakis would have been given a stiffer sentence.
"Delvecchio, the first woman to be appointed Chief Justice of the Massachusetts Superior Court, was honored in 2000 as the keynote speaker at the Massachusetts Gay and Lesbian Bar Association's annual dinner."
---
Cowboy and Indians...Cowboys
I was rolling when I saw this. It was too funny...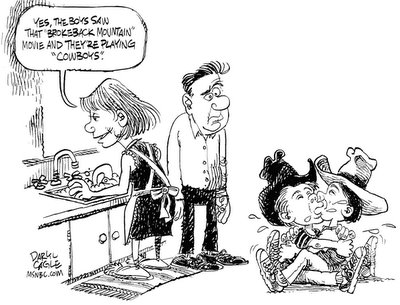 However, I did hear the movie was good...

H/T Craig DeLuz
---
January 13, 2006
Judicial Misconduct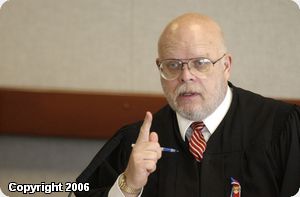 If the Judicial system needs a posterchild for misconduct, that's certainly it!
There was outrage when a Vermont judge handed out a 60-day jail sentence to a man who raped a little girl many, many times over a four-year span starting when she was seven.
But Judge Edward Cashman said he no longer believes in punishment and is more concerned about rehabilitation.
Prosecutors argued that confessed child-rapist Mark Hulett, 34, of Williston deserved at least eight years behind bars for repeatedly raping a littler girl countless times starting when she was seven.
"The one message I want to get through is that anger doesn't solve anything. It just corrodes your soul," said Judge Edward Cashman

"Punishment is a valid purpose," Chittenden Deputy Prosecutor Nicole Andreson argued to Judge Edward Cashman.

"The state recognizes that the court may not agree or subscribe to that method of sentencing but the state does. The state thinks that it is a very important factor for the court to consider," Andreson added.
But Judge Cashman explained that he is more concerned that Hulett receive sex offender treatment as rehabilitation. But under Department of Corrections classification, Hulett is considered a low-risk for re-offense so he does not qualify for in-prison treatment.So the judge sentenced him to just 60 days in prison and then Hulett must complete sex treatment when he gets out or face a possible life sentence.
Judge Cashman also also revealed that he once handed down stiff sentences when he first got on the bench 25 years ago, but he no longer believes in punishment.
"I discovered it accomplishes nothing of value;it doesn't make anything better;it costs us a lot of money; we create a lot of expectation, and we feed on anger,"Cashman explained to the people in the court.
From FOXnews & Bill O'Reilly:
If Vermont had Jessica's Law, we wouldn't need to worry about Hulett committing the crime again. He'd be gone for at least 25 years.

Let me put it this way. In Florida and some other states, if you rape a child, you're in prison for much of your life. In Vermont if you rape a child and appear before Cashman, you get less jail time than Martha Stewart. How about that?

The only responsible newspaper in Vermont seems to be The Burlington Free Press, which has not only called for Cashman's removal, but has also reported his bizarre behavior on the bench in the past.

According to the paper, Cashman once told a 20-year-old rape victim she had experienced "one of the harsh realities of life." The woman broke down in tears in the courtroom. And Cashman later apologized.
Gov. Jim Douglas said Thursday that Judge Edward Cashman should resign from the bench if he no longer believes punishment is a worthwhile part of criminal sentences.
"He needs to consider what he said and reflect on that and if that is truly his belief, I think that would be the appropriate decision," Douglas said at his weekly news conference.
The calls are mounting for Cashman to resign. I firmly believe that he should step down immediately. Furthermore, if he does not, there should be action taken by the state or government to have the guy removed from the bench.
60 days for this type of crime, appalling!
---
January 12, 2006
My First Post From My Treo
Well this is the first post from my Treo. The HP HW6515 I had went back as it was very difficult to get software.
I will post a brief comparison tomorrow.

This was posted via my Treo.
---
January 07, 2006
New HP HW6515 PDA/Phone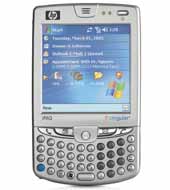 Well I just got a new PDA/phone and I must say, "I love it". I did quite a bit of research and it came down to the Treo 650 or the HP HW6515. Both have alot of really cool features. A friend of mine has the Treo 650 and he loves it.
I have always been more of a Windows person than a Palm. There's nothing wrong with Palm, just not my cup of tea.
Here are some of the features of the phone:
Operating systems installed
Microsoft® Windows Mobile™ 2003 software - Phone Edition
Processor
Intel® PXA272 Processor 312 MHZ
Connectivity, std.
Quad band GSM/GPRS/EDGE, Bluetooth® 1.2, IrDA SIR 1.2
Expansion slot
Integrated Secure Digital (SDIO) slot; Integrated Mini-SD slot
Memory, std.
128 MB total memory; 55 MB user available (includes up to 12 MB iPAQ File Store)
Display
3.0" transflective TFT QVGA; 64K colors
Input type
1.3MP Camera with LED flash, integrated thumb keyboard
Audio
Integrated microphone, receiver, speaker, one 2.5 mm stereo headphone jack, MP3 stereo (through headphone jack)
I love the GPS/Navigation. The only thing I need to find is a blogging tool for it. So, if anyone knows of any software, please comment or email me.
So far, my favorite feature is GPS/Nav. I was able to locate all of the Starbucks in Sacramento with ease. :)
---
PDA Version Of The Sacramento Republicrat
I have created a new index for people who use PDA's. You can see it here in the PDA Version.
So if any of you have PDA's or internet ready mobile phones, you can get a streamlined version of my blog @ http://sacramentorepublicrat.com/pda.html
---
It's A Sad Day In The Blogosphere
Today, Nickie Goomba, blogger and fellow Western Alliance member closed down his blog.
I only hope to hear from Nickie again as his style, wit, and writing skills are
truly what blogging is all about.
My best goes out to Nickie and his family.
---