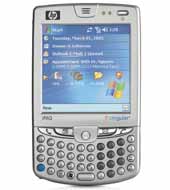 Well I just got a new PDA/phone and I must say, "I love it". I did quite a bit of research and it came down to the Treo 650 or the HP HW6515. Both have alot of really cool features. A friend of mine has the Treo 650 and he loves it.
I have always been more of a Windows person than a Palm. There's nothing wrong with Palm, just not my cup of tea.
Here are some of the features of the phone:
Operating systems installed
Microsoft® Windows Mobile™ 2003 software - Phone Edition
Processor
Intel® PXA272 Processor 312 MHZ
Connectivity, std.
Quad band GSM/GPRS/EDGE, Bluetooth® 1.2, IrDA SIR 1.2
Expansion slot
Integrated Secure Digital (SDIO) slot; Integrated Mini-SD slot
Memory, std.
128 MB total memory; 55 MB user available (includes up to 12 MB iPAQ File Store)
Display
3.0" transflective TFT QVGA; 64K colors
Input type
1.3MP Camera with LED flash, integrated thumb keyboard
Audio
Integrated microphone, receiver, speaker, one 2.5 mm stereo headphone jack, MP3 stereo (through headphone jack)
I love the GPS/Navigation. The only thing I need to find is a blogging tool for it. So, if anyone knows of any software, please comment or email me.
So far, my favorite feature is GPS/Nav. I was able to locate all of the Starbucks in Sacramento with ease. :)
---