December 31, 2005
Happy New Year From The Sacramento Republicrat
I just wanted to take a quick minute and wish everyone and safe and Happy New Year!

2005 was a great year for alot of people and at the same time it was filled with death and distruction.

Lets look forward to a great year in 2006.


---
December 28, 2005
Telemarketer's...I Hate Them All!
This is more of a rant than a post.
I am so tired of getting bothered by telemarketers. I have already signed up for the National Do Not Call List for my phone home telephone. But at work, we are constantly getting hammered from telemarketers.
You answer the phone, and after listening to them or explaining to them you are not interested, they just give you the old click, dialtone. They can't say "Ok, thanks anyway. Have a nice afternoon." They just have to hang up on you.
Telemarketers rank some where between lawyers and software salesmen.
---
December 25, 2005
Merry Christmas From The Sacramento Republicrat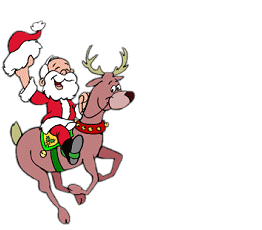 I just wanted to take a minute and to wish you and yours a safe and Merry Christmas, Happy Hanukkah, and Happy New Year.
---
December 23, 2005
Spreading Holiday Cheer
Great post I found at The Conspiracy to Keep You Poor and Stupid

For Our Democratic Friends:

"Please accept with no obligation, implied or implicit, our best wishes for an environmentally conscious, socially responsible, low-stress, non-addictive, gender-neutral celebration of the winter solstice holiday, practiced within the most enjoyable traditions of the religious persuasion of your choice, or secular practices of your choice, with respect for the religious/secular persuasion and/or traditions of others, or their choice not to practice religious or secular traditions at all. We also wish you a fiscally successful, personally fulfilling and medically uncomplicated recognition of the onset of the generally accepted calendar year 2006, but not without due respect for the calendars of choice of other cultures whose contributions to society have helped make America great. Not to imply that America is necessarily greater than any other country nor the only America in the Western Hemisphere. And without regard to the race, creed, color, age, physical ability, religious faith or sexual preference of the wishee. By accepting these greetings you are accepting these terms. This greeting is subject to clarification or withdrawal. It is freely transferable with no alteration to the original greeting. It implies no promise by the wisher to actually implement any of the wishes for herself or himself or others, and is void where prohibited by law and is revocable at the sole discretion of the wisher. This wish is warranted to perform as expected within the usual application of good tidings for a period of one year or until the issuance of a subsequent holiday greeting, whichever comes first, and warranty is limited to replacement of this wish or issuance of a new wish at the sole discretion of the wisher."

For Our Republican Friends:

Here's wishing all of you a Merry Christmas and a Happy New Year!
---
December 21, 2005
Patriot Act Alive For Another Six Months
Senate Republicans Wednesday evening tentatively signed onto an agreement that will fully reauthorize the Patriot Act in its current form but also allows lawmakers to revisit controversial parts of the act that are subject to extensive opposition.
From FOXNews:
According to the deal reached late Wednesday, the 16 expiring provisions of the Patriot Act would be renewed for four years, but House and Senate leaders would allow changes in the law to be submitted for an up or down vote by May 31, 2006.

The deal does not mean the bill will be changed next year, particularly as that requires a high threshold to overcome, but it did earn the support of four key Republicans — Sens. Chuck Hagel of Nebraska, Larry Craig of Idaho, John Sununu of New Hampshire and Lisa Murkowksi of Alaska. All four helped block a final vote on a compromise bill offered by House and Senate negotiators last week.

---
Saddam: I was Beaten In Detention
From FOXNews.com:
Saddam Claims He Was Beaten in Detention
Wednesday, December 21, 2005

BAGHDAD, Iraq — Saddam Hussein launched into an extended outburst at his trial Wednesday, alleging he had been beaten and tortured by his American captors while in detention after a witness testified that his agents had tortured people by ripping off their skin.

Chief prosecutor Jaafar al-Mousawi said he would investigate and that if American-led multinational forces were abusing the former Iraqi leader, he would be transferred to the custody of Iraqi troops.

"I want to say here, yes, we have been beaten by the Americans and we have been tortured," Saddam said, before gesturing to his seven co-defendants around him, "one by one."

OK, now for my response:
GOOD!
How does it feel...
---
Harry Reid, Has He Completely Lost It?
Last week Minority Leader Harry Reid, Nevada Democrat, made a statement that I would have expected to hear come from The Taliban or a member of Al Queda. Not a United States Senator.
"We killed the Patriot Act," boasted Minority Leader Harry Reid, Nevada Democrat, to cheers from a crowd at a political rally after the vote.
Read more at The Washington Post.
If he disagrees with some of the language in the Patriot Act, then work through it.
If he disagrees with some of the issues in the Patriot Act, then work through it.
But for a U.S. Senator to come out and boast about an act that is vital to our national security, is borderline criminal in my opinion. Reid either needs to issue a retraction of his statement or resign.
---
December 20, 2005
New York Transport Workers Union Employees Walk Out...
In a move that I will call unconscionable, the New York Transport Workers Union walked off their jobs in protest. They have brought the City of New York to a screeching halt. The strike began at 3:00 am EST Tuesday. Citing an inability to reach a contract.
The union said the latest MTA offer included annual raises of 3 percent, 4 percent and 3.5 percent; the previous proposal included 3 percent raises each year. MTA workers earn between $47,000 and $55,000 annually. The MTA originally had demanded an 8 percent pay raise per year for their members.
Pension issues have been a major sticking point in the talks. The MTA wants to raise the age at which new employees become eligible for full pensions from 55 to 62, which the union says is unfair.
There is a law that is frequently referred to as The Taylor Law. This law states prohibits public employees from striking.
New York State Public Employees Fair Employment Act - The Taylor Law

What Is It?

The Public Employees Fair Employment Act, commonly known as the Taylor Law, is a labor relations statute covering most public employees in New York State-- whether employed by the State, or by counties, cities, towns, villages, school districts, public authorities or certain special service districts. It became effective September 1, 1967 and was the first comprehensive labor relations law for public employees in the State, and among the first in the United States. It is the legal foundation used by GOER in its negotiations with New York State's public employee unions.

What Does It Do?

The Taylor Law:

* grants public employees the right to organize and to be represented by employee organizations of their own choice;
* requires public employers to negotiate and enter into agreements with public employee organizations regarding their employees' terms and conditions of employment;
* establishes impasse procedures for the resolution of collective bargaining disputes;
* defines and prohibits improper practices by public employers and public employee organizations;
* prohibits strikes by public employees; and
* establishes a state agency to administer the Law- The Public Employment Relations Board (PERB).

I have never been a big fan of Mayor Michael Bloomberg. But I admit, he nailed it with these comments:
Mayor Michael Bloomberg had some harsh words for the 30,000 members of the TWU. Union President Roger Toussaint, as well as other union leaders and strike participants, "shamefully decided they don't care for the people they work for and that they have no respect for the law," Bloomberg said during an afternoon press conference.

It is robbing people of their opportunities to earn a living and provide for their families," he said.

He added that the TWU leadership has "thuggishly turned their back on New York City."

More than 7 million people in and around New York City were forced to walk, find a cab, drive into work or work from home Tuesday after the strike began at 3 a.m. EST. The strike affects not only Manhattan but the other city boroughs as well — the Bronx, Queens, Brooklyn and Staten Island.

"People there are being hurt and inconvenienced. It's not just Manhattan," Bloomberg stressed.

"All of this because of an illegal strike," the mayor said. "Let me repeat: This selfish strike is illegal. We live in a country of laws where there can be severe consequences for those who break them. Union members are no different … we will use every available tool under the law to get the transit workers back to work."

When you are a public servant or employee, you take on additional responsibilities. I understand that these people deserve good benefits (as if they don't already get them), but that's why have a union. Let the union work out the details. I would support the firing and immediate replacement of all union employees that took part in the strike.
---
December 16, 2005
John Spencer, R.I.P.
Today, "West Wing" Actor John Spencer died, he was 58. Spencer was best known for his role as Leo McGarry. It is no secret that I love the show "West Wing". Spencer was one of my favorite actors on the show.
LOS ANGELES - John Spencer, who played a tough and dedicated politico on "The West Wing" who survived a serious illness to run for vice president, died of a heart attack Friday. He was 58.

Spencer died after being admitted to a Los Angeles hospital during the night, said his publicist, Ron Hofmann. He would have been 59 on Tuesday.

He was "one of those rare combinations of divinely gifted and incredibly generous," said actor Richard Schiff, who played Toby Ziegler on the NBC series.

"There are very few personal treasures that you put in your knapsack to carry with you for the rest of your life, and he's one of those," Schiff said. He said Spencer had been struggling with health issues but seemed to have rebounded.

Spencer played Leo McGarry, the savvy and powerful chief of staff to President Josiah "Jed" Bartlet (Martin Sheen). In a sad parallel to life, Spencer's character suffered a heart attack that forced him to give up his White House job.

---
December 15, 2005
Another Christmas Post
This is an email I received. It's a little long winded, but a funny read.
FROM: Patty Lewis, Human Resources Director
TO: All Employees
DATE: December 01, 2005
RE: Holiday Party


I'm happy to inform you that the company Christmas Party will take place on December 23, starting at noon in the private function room at the Grill House. There will be a cash bar and plenty of drinks! We'll have a small band playing traditional carols...feel free to sing along. And don't be surprised if our CEO shows up dressed as Santa Claus! A Christmas tree will be lit at 1:00pm. Exchange of gifts among employees can be done at that time; however, no gift should be over $10.00 to make the giving of gifts easy for everyone's pockets. This gathering is only for employees! Our CEO will make a special announcement at that time!

Merry Christmas to you and your family.

Patty

-------------------------------------------
FROM: Patty Lewis, Human Resources Director
TO: All Employees
DATE: December 02, 2005
RE: Holiday Party

In no way was yesterday's memo intended to exclude our Jewish employees. We recognize that Chanukah is an important holiday, which often coincides with Christmas, though unfortunately not this year. However, from now on we're calling it our "Holiday Party." The same policy applies to any other employees who are not Christians or those still celebrating Reconciliation Day. There will be no Christmas tree present. No Christmas carols sung. We will have other types of music for your enjoyment.
Happy now?

Happy Holidays to you and your family.

Patty

-------------------------------------------
FROM: Patty Lewis, Human Resources Director
TO: All Employees
DATE: December 03, 2005
RE: Holiday Party

Regarding the note I received from a member of Alcoholics Anonymous requesting a non-drinking table ... you didn't sign your name. I'm happy to accommodate this request, but if I put a sign on a table that reads, "AA Only"; you wouldn't be anonymous anymore. How am I supposed to handle this?
Somebody?
Forget about the gifts exchange, no gifts exchange are allowed since the union members feel that $10.00 is too much money and executives believe $10.00 is a little chintzy.
NO GIFTS EXCHANGE WILL BE ALLOWED.

-------------------------------------------
FROM: Patty Lewis, Human Resources Director
To: All Employees
DATE: December 04, 2005
RE: Holiday Party

What a diverse group we are! I had no idea that December 20 begins the Muslim holy month of Ramadan, which forbids eating and drinking during daylight hours. There goes the party! Seriously, we can appreciate how a luncheon at this time of year does not accommodate our Muslim employees' beliefs. Perhaps the Grill House can hold off on serving your meal until the end of the party- or else package everything for you to take it home in little foil doggy baggy. Will that work? Meanwhile, I've arranged for members of Weight Watchers to sit farthest from
The dessert buffet and pregnant women will get the table closest to the restrooms. Gays are allowed to sit with each other. Lesbians do not have to sit with Gay men, each will have their own table. Yes, there will be flower arrangement for the Gay men's table. To the person asking permission to cross dress, no cross-dressing allowed though. We will have booster seats for short people. Low-fat food will be available for those on a diet. We cannot control the salt used in the food we suggest for those people with high blood pressure to taste first. There will be fresh fruits as dessert for Diabetics, the restaurant cannot supply "No Sugar" desserts. Sorry!

Did I miss anything?!?!?

Patty

-------------------------------------------
FROM: Patty Lewis, Human Resources Director
TO: All You Weanies
DATE: December 05, 2005
RE: The Frigging Holiday Party

Vegetarian's, I've had it with you people!!! We're going to keep this party at the Grill House whether you like it or not, so you can sit quietly at the table furthest from the "grill of death," as you so quaintly put it, and you'll get your damned salad bar, including organic tomatoes. But you know, tomatoes have feelings, too. They scream when you slice them. I've heard them scream. I'm hearing them scream right NOW! I hope you all have a rotten holiday! Drive drunk and die,

The Bitch from HELL!!!!!!!!

-------------------------------------------
FROM: Joan Bishop, Acting Human Resources Director
DATE: December 06, 2005
RE: Patty Lewis and Holiday Party

I'm sure I speak for all of us in wishing Patty Lewis a speedy recovery from her stress-related illness. I'll continue to forward your cards to her. In the meantime, management has decided to cancel our Holiday Party and give everyone the afternoon of the 23rd off with full pay.

Happy Holidays!
---
And A Merry Christmas To You...
There has been lots of controversy over the Christmas holiday. Do we say "Merry Christmas" or just "Season's Greetings"? What about "Happy Holidays"?
Now retailers are not allowing their employees to say "Merry Christmas".
The amount of time that is being spent on either discrediting Christmas or making it politically correct is nauseating.
A very wise individual has commented on the Christmas issue. I could not agree more.
THIS IS NOT FOR CHILDREN. ADULT CONTENT...
---
December 05, 2005
Sleeper Cell
Last night on Showtime, a new show called Sleeper Cell debuted. While this show still has some of the "Hollywood hype", I think it was a good show. It does not play the politically correct role that most TV shows do.
I am not going to spoil what has happened on the show in case you watch it. But suffice to say that it could happen. In fact, I think it is happening.
"Sleeper Cell"
Definition: A small cell that isn't involved in any active terrorist activities until it is alerted, then begins it's predetermined preparation for an attack.
I am a firm believer that this is happening right now. I do not think it is solely one race or group of people doing this. I will certainly be watching tonight and I will report on tonights show either later this evening or tomorrow morning.
---
December 04, 2005
Where is The Sacramento Republicrat?
I must apologize for being out of the blogosphere for about 2 weeks. Work has been crazy, getting ready for the holidays, and life in general.
I have received a few emails asking when I am coming back. Well, I am back...
Over then next day or two I will hopefully get into full swing!
---