June 09, 2006
But Your Honor, I'm Too Short For Prison...
A judge said a 5-foot-1 man convicted of sexually assaulting a child was too small to survive in prison, and gave him 10 years of probation instead.
His crimes deserved a long sentence, District Judge Kristine Cecava said, but she worried that Richard W. Thompson, 50, would be at a disadvantage in prison due to his height.
"You are a sex offender, and you did it to a child," she said. But, she said, "That doesn't make you a hunter. You do not fit in that category."
Thompson will be electronically monitored the first four months of his probation, and he was told to never be alone with someone under age 18 or date or live with a woman whose children were under 18. Cecava also ordered Thompson to get rid of his pornography.
He faces 30 days of jail each year of his probation unless he follows its conditions closely. This kills me, 30 days for each year of probation. Even if he blew it all, thats only 300 days. He was convicted of penetrating a 13 year old girl with his finger. He should have received a minimum of 20 years.
"I want control of you until I know you have integrated change into your life," the judge told Thompson. "I truly hope that my bet on you being OK out in society is not misplaced."
State Attorney General Jon Bruning was preparing an appeal of the sentence, arguing that it is too lenient.
Tiffany Jones, 30, of Lodgepole, works in Sidney and is organizing demonstrations at the county courthouse and gathering signatures seeking Cecava's resignation. Jones said she's already gotten about 700 signatures as of Wednesday and she hoped to submit the signatures along with a complaint to the state commission that disciplines judges by the end of the week.
Source: FOXnews
---
April 04, 2006
Homeland Security Sex Bust
Department of Homeland Security Deputy Press Secretary Brian Doyle busted! Doyle was charged with trying to seduce a child and transmission of harmful material to a minor.
Doyle, of Silver Spring, Md., had a sexually explicit conversation with what he believed was a 14-year-old girl whose profile he saw on the Internet on March 14, the Polk County Sheriff's Office said in a statement.

The girl was an undercover Polk County Sheriff's Computer Crimes detective, the sheriff's office said.

Doyle sent the girl pornographic movie clips and had sexually explicit conversations via the Internet, the statement said.

During other online conversations, Doyle revealed his name, that he worked for the Homeland Security Department and offered his office and government issued cell phone numbers, the sheriff's office said.
On several occasions, Doyle instructed her to perform a sexual act while thinking of him and described explicit activities he wanted to have with her, investigators said.

Doyle later had a telephone conversation with an undercover deputy posing as the teenager and encouraged her to purchase a web camera to send graphic images of herself to him, the sheriff's office said.

He was booked into Maryland's Montgomery County jail where he was waiting to be extradited to Florida, the sheriff's office said.
---
February 22, 2006
Local Sacramento School Wants Kids To Walk To School
A local Sacramento school is recommending that children walk to school. Regency Park Elementary which is part of the Rio Linda Union School District, is asking parents NOT to drive their kids to school. In an effort to keep children away from moving cars, the school is redesigning it's drop off and pick up policy.

In a letter sent home to parents, it starts off with the following paragraph:


We are encouraging all families living in the Regency Park Community to allow their students to walk to and from school each day. Kids today don't have as many opportunities to be as physically active as they once did. At school, physical education time is just 200 minutes every two weeks and is not conducted by a specialist. Today's children have a wider variety of television programs and video games to entertain them. These realities are keeping kids from getting regular phyisical activity and may be contributing to a growing number of overweight children, which has increased by 63% over the past 30 years.

We received a seven page handout outlining the schools plan. You can view it
here
in .PDF format.
Ok, so it sounds like I am complaining about something good the school is attempting to do. Wrong! That's not it at all. I am all for the fact that the school wants to implement an enviroment that is more safe for our children.
What I am against is the fact that the school is pushing us to have our children walk to school. This program needs to be thought out further before they implement it. Children who are in the First, Second, or even Third grade should not be left alone to walk to school unless it is absolutely necessary. It is a parents choice and NOT the schools. Are they going to provide security or protection for my children as they walk to school? No.
There are dangerous and vile people out there who prey on kids walking alone. I went to
Megan's Law
website and put in the two zip codes that cover my general area and the area my children would have to pass through to get to school. The database located three individuals that my kids would have to go right by twice a day. Uh, I don't think so!
This blog called both Regency Park Elementary School as well as Rio Linda Union School District for comment. Both declined. One cited that they were looking in to the matter due to the influx of telephone calls.
In closing, I am in no way against our children getting additional excercise. Nor am I against a safer enviroment around vehicles. I am against the school trying to persuade parents to have their children walk to school so they have less vehicles to deal with.
On the "Driving Around the School" map on the PDF, they make a statement, Driving around the school, "IF YOU MUST", follow this path. "IF I MUST", you're damn skippy I must...
---
January 19, 2006
School Teacher Gets No Jail Time For Rape
A former Middleboro High School teacher pleaded guilty Tuesday to raping one of his teenage students and possession of child pornography, but he won't spend any time in jail.
Gregory Pathiakis, 26, of Brockton, who quit his teaching job after school officials questioned his off-duty contact with students, pleaded guilty in Brockton Superior Court to one count of rape of a child, enticement of a child under 16, five counts of possession of child pornography and one count of distribution of harmful material to a child.
Judge Suzanne V. Delvecchio gave Pathiakis a suspended, 21/2-year jail term, followed by five years probation — rejecting the prosecutor's plea for at least four years in state prison.
Pathiakis is also banned from working with children or any volunteer activities involving children.
Prosecutors said they were disappointed by the sentence but stopped short of openly criticizing the judge's decision not to lock up Pathiakis, who is now required to register as a sex offender.
"That is certainly disheartening to see that there is not some sort of incarceration," Plymouth County District Attorney Timothy J. Cruz said. "He was in a position of authority over these kids."
Flanagan said the boy went to Pathiakis' apartment where a sex act occurred. There was no force involved, but a 15-year-old, under law, cannot consent to any sexual relations. The boy initially told authorities he was attacked in Pathiakis' Jeep while at a Brockton parking lot.
The boy's father, reading a statement the teen prepared for the court, urged the judge to send Pathiakis to jail.
"I feel you deserve jail," the boy wrote in a statement read by his father. "You are a disgrace to all teachers."
Assertions are being made that if it would not have been a homosexual act, that Pathiakis would have been given a stiffer sentence.
"Delvecchio, the first woman to be appointed Chief Justice of the Massachusetts Superior Court, was honored in 2000 as the keynote speaker at the Massachusetts Gay and Lesbian Bar Association's annual dinner."
---
January 13, 2006
Judicial Misconduct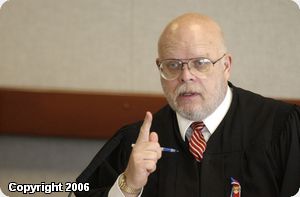 If the Judicial system needs a posterchild for misconduct, that's certainly it!
There was outrage when a Vermont judge handed out a 60-day jail sentence to a man who raped a little girl many, many times over a four-year span starting when she was seven.
But Judge Edward Cashman said he no longer believes in punishment and is more concerned about rehabilitation.
Prosecutors argued that confessed child-rapist Mark Hulett, 34, of Williston deserved at least eight years behind bars for repeatedly raping a littler girl countless times starting when she was seven.
"The one message I want to get through is that anger doesn't solve anything. It just corrodes your soul," said Judge Edward Cashman

"Punishment is a valid purpose," Chittenden Deputy Prosecutor Nicole Andreson argued to Judge Edward Cashman.

"The state recognizes that the court may not agree or subscribe to that method of sentencing but the state does. The state thinks that it is a very important factor for the court to consider," Andreson added.
But Judge Cashman explained that he is more concerned that Hulett receive sex offender treatment as rehabilitation. But under Department of Corrections classification, Hulett is considered a low-risk for re-offense so he does not qualify for in-prison treatment.So the judge sentenced him to just 60 days in prison and then Hulett must complete sex treatment when he gets out or face a possible life sentence.
Judge Cashman also also revealed that he once handed down stiff sentences when he first got on the bench 25 years ago, but he no longer believes in punishment.
"I discovered it accomplishes nothing of value;it doesn't make anything better;it costs us a lot of money; we create a lot of expectation, and we feed on anger,"Cashman explained to the people in the court.
From FOXnews & Bill O'Reilly:
If Vermont had Jessica's Law, we wouldn't need to worry about Hulett committing the crime again. He'd be gone for at least 25 years.

Let me put it this way. In Florida and some other states, if you rape a child, you're in prison for much of your life. In Vermont if you rape a child and appear before Cashman, you get less jail time than Martha Stewart. How about that?

The only responsible newspaper in Vermont seems to be The Burlington Free Press, which has not only called for Cashman's removal, but has also reported his bizarre behavior on the bench in the past.

According to the paper, Cashman once told a 20-year-old rape victim she had experienced "one of the harsh realities of life." The woman broke down in tears in the courtroom. And Cashman later apologized.
Gov. Jim Douglas said Thursday that Judge Edward Cashman should resign from the bench if he no longer believes punishment is a worthwhile part of criminal sentences.
"He needs to consider what he said and reflect on that and if that is truly his belief, I think that would be the appropriate decision," Douglas said at his weekly news conference.
The calls are mounting for Cashman to resign. I firmly believe that he should step down immediately. Furthermore, if he does not, there should be action taken by the state or government to have the guy removed from the bench.
60 days for this type of crime, appalling!
---
October 18, 2005
Oprah's Most Wanted???
Talk show host turned crime fighter is going after child molesters. You can read more about it here. and here.
I applaude Oprah's efforts on this. As many of you know, I strongly believe that anyone who harms a child in a sexual manner, needs to face the harshest of punishments.
Breaking news! Two accused child molesters—caught! We posted their pictures and viewers just like you turned them in. The tip, the big break, the capture…all the details. How you can claim the next $100,000 reward! Child molesters, we are coming after you!
Here is a very good site on "How to Protect Your Children". It is certainly worth the read.
Good luck Oprah!
---
August 10, 2005
Who's The Real Criminal???
On August 2nd of this year, 42-year-old attorney Jan Helder was convicted by a federal jury of using the Internet to try to entice a child after he attempted to meet an undercover agent posing as a 14-year-old girl. Immediately following the verdict, U.S. District Judge Dean Whipple tossed out the conviction citing that since no child was actually involved, the case was bogus. The practice has become widespread where undercover agents pose as children on Internet chat rooms. When adults strike up online relationships and arrange for sexual liaisons, police are waiting at the rendezvous point with handcuffs and arrest warrants.
"We will appeal this," U.S. Attorney Todd Graves said. "Our program is going forward."
So let me make sure I understand this, unless a child was actually molested, abused, or murdered, it's ok for this guy to get away with this?
I think that since Jan Helder was convicted by a federal jury, then the conviction should stand. Furthermore, there needs to be an investigation in to U.S. District Judge Dean Whipple for his actions. So who is the real criminal? BOTH! We have Helder who was convicted by a jury and Whipple who over turned the conviction and let Helder back on the streets. For Helder, the police will get you again. For Whipple, how can you sleep at night with this on your conscious??? I could not...
---
July 02, 2005
Sexual Predator's Get Off Easy
In a breaking story today, Shasta Groene, the 8-year-old girl whose mother, oldest brother and the mother's boyfriend were bludgeoned to death at their home six weeks ago, was found alive at a Denny's restaurant early this morning. The fate of her brother Dylan, is still unknown but authorities fear the worst. Shasta was found to be in the company of Joseph Edward Duncan III, a registered sex offender. Duncan's criminal history goes back to 1980, where he was prosecuted and convicted of raping a 14-year-old boy in Washington state when he was 16 years old. Duncan has a long history of sexual offenses. He was arrested in Becker County, Minn., in April 2005 for allegedly molesting a 7-year-old boy, and served 14 years in prison for raping a 14-year-old boy in Washington state in 1980. Duncan was out on bail from Minnesota. Hmmm, if he had been held, would the family still be alive??? You decide...I am sure the judge that granted Duncan's bail is questioning that decision! The laws for sex offenders need to be rewritten. They are way to lenient. Currently the laws for sex offenders lump the next three scenarios together: -An individual inappropriately touches or has a child touch him or her. -A man rapes a woman. -An 18 year old high school male has a sexual relationship with a 17 year old female with whom he had been going out with the entire time they were in high school (high school sweethearts) gets charged with statutory rape. Even if the 17 year old girl does not want charges filed. The first two scenarios need to face the harshest punishment. The third one does not. But under the current laws, they all face the same. Sexual predators should be identified by a National Sex Offenders Database. Currently California has a database. Megan's Law Database Sexual predators need to be sentenced and put in prison. If and when they get out, the should wearing an electronic ankle monitoring device. If they commit a second crime of sexual nature, they should be put to death. Why fill up prisons with a group of individuals that are nothing more than a wart on the ass of humanity.
---