Before I get in to this post, I would like to make it clear that while I have no personal issues with individuals who come in to this country and become a legal citizens. My beef is with the people who come in (and not just from Mexico) and expect to live off of our tax dollars.
The United States of America is a country made up of all kinds of people. All nationalities, all races. BUT, this is The United States of America. It is not Mexico, it is not Canada, or China, or Japan, or Iraq, or Russia.
Today, a version of the Star Spangled Banner was released in Spanish. Ok, this pisses me off. If you went to any of the countries I mentioned earlier and asked them to allow an English version of their national anthem, we would be would be laughed out of there country.
Yet it is permissible to do this here. Oh, but we cannot complain about anyone being in our country illegally.
From FOXnews:
MIAMI — British music producer Adam Kidron says that when he came up with the idea of a Spanish-language version of the U.S. national anthem, he saw it as an ode to the millions of immigrants seeking a better life.

But in the week since Kidron announced the song — which features artists such as Wyclef Jean, hip-hop star Pitbull and Puerto Rican singers Carlos Ponce and Olga Tanon — it has been the target of a fierce backlash.

Some Internet bloggers and others are infuriated by the thought of the "Star-Spangled Banner" sung in a language other than English.

"Would the French accept people singing the La Marseillaise in English as a sign of French patriotism? Of course not," said Mark Krikorian, head of the Washington-based Center for Immigration Studies, a think tank that supports tighter immigration controls.
Today President Bush came out against the Spanish version with the following:
"I think the national anthem ought to be sung in English, and I think people who want to be a citizen of this country ought to learn English and they ought to learn to sing the national anthem in English."

He made his remarks on the matters during a wide-ranging briefing with reporters.

"I think people who want to be citizens of this country ought to learn English," Bush said.
Well I don't understand something then, if Bush is pro English, then why would we need a version of the White House website written in Spanish? It's not written in any other language.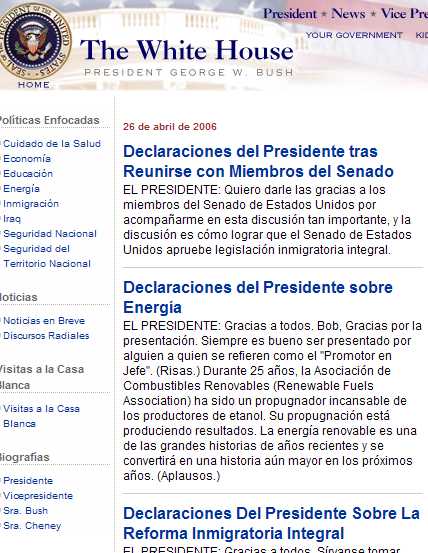 H/T Michelle Malkin for the pic.
President Bush, practice what you preach and have the Spanish of your website removed.
---