April 04, 2006
Homeland Security Sex Bust
Department of Homeland Security Deputy Press Secretary Brian Doyle busted! Doyle was charged with trying to seduce a child and transmission of harmful material to a minor.
Doyle, of Silver Spring, Md., had a sexually explicit conversation with what he believed was a 14-year-old girl whose profile he saw on the Internet on March 14, the Polk County Sheriff's Office said in a statement.

The girl was an undercover Polk County Sheriff's Computer Crimes detective, the sheriff's office said.

Doyle sent the girl pornographic movie clips and had sexually explicit conversations via the Internet, the statement said.

During other online conversations, Doyle revealed his name, that he worked for the Homeland Security Department and offered his office and government issued cell phone numbers, the sheriff's office said.
On several occasions, Doyle instructed her to perform a sexual act while thinking of him and described explicit activities he wanted to have with her, investigators said.

Doyle later had a telephone conversation with an undercover deputy posing as the teenager and encouraged her to purchase a web camera to send graphic images of herself to him, the sheriff's office said.

He was booked into Maryland's Montgomery County jail where he was waiting to be extradited to Florida, the sheriff's office said.
---
February 15, 2006
V.P. Cheney Should Resign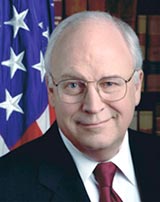 I think that Vice President Dick Cheney should resign immediately.
In an interview with FOXNews, Cheney stated the following:
"Ultimately I'm the guy who pulled the trigger that fired the round that hit Harry," Cheney said in his first interview since the incident. "I'm the guy who pulled the trigger and shot my friend, and that's something I'll never forget."

"The image of him falling is something I will never be able to get out my mind," Cheney said, somberly. "It was one of the worst days of my life."
The NY Times has a great timeline of what happened.
From the beginning, The White House covered up this story.
Democrats have nailed it:
Democrats have pilloried the White House's handling of the situation, calling it symbolic of an administration obsessed with secrecy.

"The refusal of this administration to level with the American people on matters large and small is very disturbing," said Sen. Hillary Clinton, a New York Democrat.

And Senate Minority Leader Harry Reid, a Nevada Democrat, said: "The vice president has not held a press conference since 2002."
BEEP-BEEP
BEEP-BEEP
BEEP-BEEP
BEEP-BEEP
That beeping sound you hear is your alarm clock...WAKE UP. The situation with Cheney was an accident. Period, dot, the end.
The media and extremist left wingers are making a story where there is not one.
It was an accident and nothing more...
---
December 21, 2005
Patriot Act Alive For Another Six Months
Senate Republicans Wednesday evening tentatively signed onto an agreement that will fully reauthorize the Patriot Act in its current form but also allows lawmakers to revisit controversial parts of the act that are subject to extensive opposition.
From FOXNews:
According to the deal reached late Wednesday, the 16 expiring provisions of the Patriot Act would be renewed for four years, but House and Senate leaders would allow changes in the law to be submitted for an up or down vote by May 31, 2006.

The deal does not mean the bill will be changed next year, particularly as that requires a high threshold to overcome, but it did earn the support of four key Republicans — Sens. Chuck Hagel of Nebraska, Larry Craig of Idaho, John Sununu of New Hampshire and Lisa Murkowksi of Alaska. All four helped block a final vote on a compromise bill offered by House and Senate negotiators last week.

---
December 20, 2005
New York Transport Workers Union Employees Walk Out...
In a move that I will call unconscionable, the New York Transport Workers Union walked off their jobs in protest. They have brought the City of New York to a screeching halt. The strike began at 3:00 am EST Tuesday. Citing an inability to reach a contract.
The union said the latest MTA offer included annual raises of 3 percent, 4 percent and 3.5 percent; the previous proposal included 3 percent raises each year. MTA workers earn between $47,000 and $55,000 annually. The MTA originally had demanded an 8 percent pay raise per year for their members.
Pension issues have been a major sticking point in the talks. The MTA wants to raise the age at which new employees become eligible for full pensions from 55 to 62, which the union says is unfair.
There is a law that is frequently referred to as The Taylor Law. This law states prohibits public employees from striking.
New York State Public Employees Fair Employment Act - The Taylor Law

What Is It?

The Public Employees Fair Employment Act, commonly known as the Taylor Law, is a labor relations statute covering most public employees in New York State-- whether employed by the State, or by counties, cities, towns, villages, school districts, public authorities or certain special service districts. It became effective September 1, 1967 and was the first comprehensive labor relations law for public employees in the State, and among the first in the United States. It is the legal foundation used by GOER in its negotiations with New York State's public employee unions.

What Does It Do?

The Taylor Law:

* grants public employees the right to organize and to be represented by employee organizations of their own choice;
* requires public employers to negotiate and enter into agreements with public employee organizations regarding their employees' terms and conditions of employment;
* establishes impasse procedures for the resolution of collective bargaining disputes;
* defines and prohibits improper practices by public employers and public employee organizations;
* prohibits strikes by public employees; and
* establishes a state agency to administer the Law- The Public Employment Relations Board (PERB).

I have never been a big fan of Mayor Michael Bloomberg. But I admit, he nailed it with these comments:
Mayor Michael Bloomberg had some harsh words for the 30,000 members of the TWU. Union President Roger Toussaint, as well as other union leaders and strike participants, "shamefully decided they don't care for the people they work for and that they have no respect for the law," Bloomberg said during an afternoon press conference.

It is robbing people of their opportunities to earn a living and provide for their families," he said.

He added that the TWU leadership has "thuggishly turned their back on New York City."

More than 7 million people in and around New York City were forced to walk, find a cab, drive into work or work from home Tuesday after the strike began at 3 a.m. EST. The strike affects not only Manhattan but the other city boroughs as well — the Bronx, Queens, Brooklyn and Staten Island.

"People there are being hurt and inconvenienced. It's not just Manhattan," Bloomberg stressed.

"All of this because of an illegal strike," the mayor said. "Let me repeat: This selfish strike is illegal. We live in a country of laws where there can be severe consequences for those who break them. Union members are no different … we will use every available tool under the law to get the transit workers back to work."

When you are a public servant or employee, you take on additional responsibilities. I understand that these people deserve good benefits (as if they don't already get them), but that's why have a union. Let the union work out the details. I would support the firing and immediate replacement of all union employees that took part in the strike.
---
November 25, 2005
Mikey Likes It
Former F.E.M.A. head, Mike Brown, is starting a disaster preparedness consulting firm. Brown said he wants to "help clients avoid the sort of errors that cost him his job".
"If I can help people focus on preparedness, how to be better prepared in their homes and better prepared in their businesses — because that goes straight to the bottom line — then I hope I can help the country in some way,"
Brown said companies already have expressed interest in his consulting business, Michael D. Brown LLC. He plans to run it from the Boulder area, where he lived before joining the Bush administration in 2001.
I find it amazing that Brown, who resigned as the F.E.M.A. head for his part in the Katrina blunder was given a contract to stay on with F.E.M.A. in a consulting capacity.
Brown told congressional investigators Monday that he is being paid as a consultant to help FEMA assess what went wrong in the aftermath of Hurricane Katrina, according to a senior official familiar with the meeting
---
November 04, 2005
Crushing the American Dream
Is The United States Supreme Court responsible for single handedly destroying the American Dream? What do I mean you ask? Two words; Eminent Domain. There are more and more stories coming out where cities are using eminent domain to steal hard working Americans properties.
I think this is preposterous. Taking property away from hard working americans, it really furstrates me. I think SCOTUS needs to over turn their own decision.
In Oakland, CA, there is a tire shop that was claimed by the City of Oakland under Eminent Domain and a family owned business closed. Revelli Tire has been serving customers in downtown Oakland for the past 56 years.
The council's argument: One landowner should not impede the progress of a city on the move.
"I am being forced to give up and give away all I have worked for all these years," Revelli said.
"It is a compelling story, but it is not correct because we offered far and away more than what the land value was," said City of Oakland redevelopment director Dan Vanderpriem.
The former site of Reveilli's shop is in a part of Oakland that is slated for redevelopment. I must also state that Revelli's property is not the only property being seized.
On the opposite side of the block, the city again used their powers of Eminent Domain to take a persons property only to give it to the retailer Sears who has plans to build its own tire store.
Huh? Did I really just say that? The City of Oakland is taking one persons land and give it to a commercial retailer.
"Sears is our only major retailer," said Oakland City Councilman Larry Reid. "We have a responsibility in terms of being able to keep Sears in downtown Oakland for what we hope will be a strong viable retail base."

"We have a situation where Sears is being allowed to stay in the project with their existing tire shop while the city wants us out of there. It doesn't make sense to me," Revelli said.
---
October 02, 2005
FEMA Says "No Thanks" to Help...
When Loudoun County Sheriff Steve Simpson got a call for help from fellow officers in Louisiana, he gathered equipment, supplies, and a 22 person team. Ten hours later, they were ready to go. Simpson said once they finally reached someone at the Jefferson Perish Sheriff's Office, the lady was desperate. Simpson said the tone of emotion and concern in her voice made it clear that something had to happen.
She said, 'We need help and we need it now. People are shooting at the station. "
Simpson said they got all political and legal issues resolved with Loudoun County Attorney around 1pm the next day. All they needed was a "FEMA tracking number" and they could hit the road. Sheriff Simpson continued calling FEMA every few minutes for hours with no one answering the FEMA telephone. After getting nowhere with the FEMA line, he called an old friend who is with The Red Cross - who got him another number.
"When someone finally answered, they told him the didn't know who to call in Louisiana," Simpson said.
Simpson continued to push as he knew it was the right thing to do. He finally spoke with a trooper froom the Louisiana State Police.
"This trooper actually told us that we were not to come down. I couldn't believe it. All I could say 'Excuse me?'" " I told him, 'With all due respect sir, your governor is on television pleading for help amd that's what were are offering.'" "They said we were 'Self Dispatching'" Simpson said.
Sheriff Simpson did not take this lying down. He placed a call to CNN, a reporter was on site within hours and he was doing a live interview. I would like to say a personal "Thank You", to Sheriff Simpson. People like him give Law Enforcement a good name.
---
September 22, 2005
What A Concept...
I was going to write an in depth post on this Houston/New Orleans planning and lack of planning. BUT, these pictures pretty much sum it up:
Houston...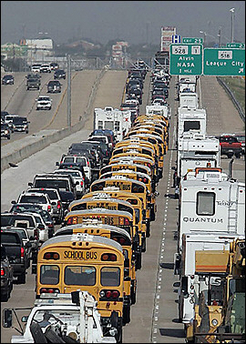 New Orleans...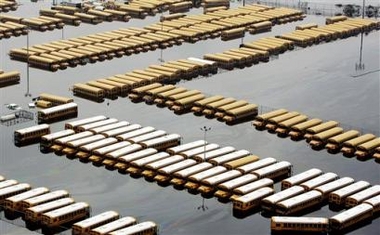 ENUFF said!
Hat tip: Jason Smith
---
September 02, 2005
Louisiana Government: Did They Drop The Ball, or Ever Really Have It?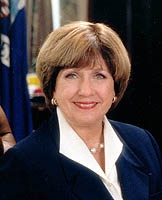 There is continuing speculation that the government of the State of Louisiana who is headed up by Governor Kathleen Blanco, had what many call "Virtually no disaster plan". There is mass pandemonium in New Orleans. Louisiana has 1,000 State Troopers and 6,000 National Guard Troops. "Where are they?" people are asking. They are out in full force, helping people, saving lives and trying to restore peace. These people are giving 110%. 20+ hours a day. They have been doing this for the past 5 days. There are just simply not enough of them. But where is the Calvary you ask? Well, they arrived today. Convoys that were miles long. They brought food, supplies, and most of all, water. Thousands of Armed National Guardsman. The big question, "Were they too late"? Quite frankly, YES! Hundreds, maybe thousands are dead. People are being murdered, beaten and raped inside the Superdome. As of the time of this post, there are an estimated 30,000 people still waiting to be rescued in New Orleans. I guess if they had known Katrina was coming, maybe they could have planned. Oh wait, they did know. Hmm, you have to wonder why the government did not contact federal agencies earlier. Staged supplies in metal containers, something. Preparation, preparation, preparation. Katrina was heading to New Orleans as a Category 5. Even as a Category 3 or 4, they knew it would be devastating. So why not plan. I have followed this story very closely and even tonight, people are still dying. Where is Rudy Giuliani when you need him...
---