April 25, 2006
It's Tony Snow...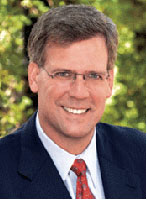 Last week, this blog reported that Tony Snow would be the next White House Press Secretary. Read more here. It looks like our crystal ball was right.
FOXnews is making the announcement on their site as I type.
WASHINGTON — Tony Snow will be named new White House press secretary on Wednesday morning, FOX News has learned. Snow is expected to be at the White House for the announcement. He has been mulling the offer for the last several days.

I expect to see him at the podium in just a few days, in the press room at the White House," Fred Barnes, editor of The Weekly Standard and a FOX News contributor, said Tuesday.

The talk radio host was given a clean bill of health by his oncologist Tuesday, following a CAT scan and other tests that were undertaken last Thursday. Sources said Snow was President Bush's first choice, but he needed the all-clear from his doctors before he takes the job. Snow is recovering from colon cancer.

Good luck Tony!!!
---
April 19, 2006
Scott McClellan Resigns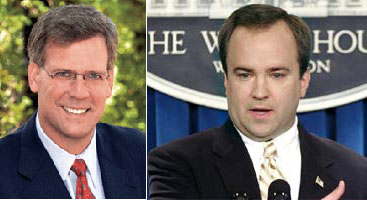 With only days on the job, new C.O.S. Josh Bolton isn't wasting any time in making changes to the current Staff.
Today, White House Press Secretary Scott McClellan resigned.
"I'm ready to move on," McClellan said while standing next to President Bush on the South Lawn of the White House.

McClellan, who has served as Bush's spokesman and defender during an especially trying time in the presidency, indicated that his decision was part of an ongoing personnel shake-up in the administration.

"The White House is going through a period of transition; change can be helpful, and this is a good time and good position to help bring about change," he said.

Bush said McClellan had performed a "job well done," and the two touched on their long relationship predating the presidency.

"I thought he handled his assignment with class, integrity," the president said. "It's going to be hard to replace Scott, but nevertheless he made the decision and I accepted it. One of these days, he and I are going to be rocking in chairs in Texas and talking about the good old days."

This blog has learned that Bush plans to tap current FOXnews' Tony Snow for the assignment. While this may be speculation, we feel it will happen.
Stay tuned for breaking details...
---
April 04, 2006
Homeland Security Sex Bust
Department of Homeland Security Deputy Press Secretary Brian Doyle busted! Doyle was charged with trying to seduce a child and transmission of harmful material to a minor.
Doyle, of Silver Spring, Md., had a sexually explicit conversation with what he believed was a 14-year-old girl whose profile he saw on the Internet on March 14, the Polk County Sheriff's Office said in a statement.

The girl was an undercover Polk County Sheriff's Computer Crimes detective, the sheriff's office said.

Doyle sent the girl pornographic movie clips and had sexually explicit conversations via the Internet, the statement said.

During other online conversations, Doyle revealed his name, that he worked for the Homeland Security Department and offered his office and government issued cell phone numbers, the sheriff's office said.
On several occasions, Doyle instructed her to perform a sexual act while thinking of him and described explicit activities he wanted to have with her, investigators said.

Doyle later had a telephone conversation with an undercover deputy posing as the teenager and encouraged her to purchase a web camera to send graphic images of herself to him, the sheriff's office said.

He was booked into Maryland's Montgomery County jail where he was waiting to be extradited to Florida, the sheriff's office said.
---
Michelle Malkin Under The Microscope???
Michelle Malkin has a post on bloggers questioning her work ethics and writing skills.
Apparently the blog Is That Legal has a post that is not only insane, but is an outright personal attack on Michelle Malkin's work ethic and talent.
I will admit that while I may not agree with Michelle 100% of the time (probably in the 90's), she certainly does not deserve this kind of attack.
Law Prof. Eric Muller has listed the times that Michelle blogs and insinuates Michelle does not write all of her own posts. This is very weird...
A comment from Talkleft.com:
Add me to the list. In fact, it's creepy, almost like cyber-stalking. (Although Michelle goes a little overboard in calling him "insanely obsessed" and "deranged.")
I do not know Prof. Muller, it is clear that he has too much time on his hands.
---
March 28, 2006
Card Out, Josh Bolton In...
Andrew Card has resigned and been replaced by Josh Bolton. Is this the first step of many in an effort by the Bush administration to improve ratings?
More to follow...
---
January 26, 2006
Kerry and Kennedy Threaten Filibuster
Senator John Kerry and others are threatening a filibuster. Oh boy, here we go again...
From FOXnews:
WASHINGTON — Massachusetts Sens. John Kerry and Edward Kennedy, along with a small number of other Senate Democrats, have threatened a filibuster to block the vote for Judge Samuel Alito's confirmation to the U.S. Supreme Court, FOX News has learned.

"Judge Alito has consistently made it harder for Americans to have their day in court. He routinely defers to the power of the government, no matter how extreme. And he doesn't believe women have a right to privacy that's protected by the Constitution," Kerry said in a statement.

"The president has every right to nominate Samuel Alito to the Supreme Court. It's our right and our responsibility to oppose him vigorously and to fight against this radical upending of the Supreme Court," he added before announcing he would return to Washington early on Friday from Davos, Switzerland, where a Senate delegation was attending the World Economic Forum.

But a senior Democratic leadership aide told FOX News on Thursday that Senate Minority Leader Harry Reid and a majority of Democrats "do not support this action by Kerry and Kennedy. It is not politically advantageous for us."

The Senate's No. 2 Democrat said earlier in the day that while he opposes Alito, he thought it unlikely that Democrats would try to mount a filibuster.

"Having made a count, I have come to the conclusion that it is highly unlikely that a filibuster would succeed," said Senate Minority Whip Dick Durbin, D-Ill.

"There's been adequate time for people to debate," Reid added.

But on the Senate floor late Thursday, Kennedy said support is growing for a filibuster, and Durbin, along with Sens. Debbie Stabenow of Michigan and Paul Sarbanes of Maryland would back an attempt.

Two Democrats announced Thursday that they would vote for the 55-year-old Alito: Sen. Robert Byrd of West Virginia and Sen. Tim Johnson of South Dakota. Both represent states that Bush carried in the 2004 presidential election.
In a speech on the Senate floor, Byrd, the longest-serving Democrat in the Senate, said he refused "simply to toe the party line when it comes to Supreme Court justices."

"My considered judgment ... leads me to believe [Alito] to be an honorable man, a man who loves his country, loves his Constitution and a man who will give of his best," said Byrd, who faces re-election in November. "Can we really ask for more?"

Johnson said that while he was "troubled" by some of Alito's views, "I cannot accept an argument that his views are so radical that the Senate is justified in denying his confirmation."

He also said he would oppose any filibuster of the nomination.

---
December 21, 2005
Harry Reid, Has He Completely Lost It?
Last week Minority Leader Harry Reid, Nevada Democrat, made a statement that I would have expected to hear come from The Taliban or a member of Al Queda. Not a United States Senator.
"We killed the Patriot Act," boasted Minority Leader Harry Reid, Nevada Democrat, to cheers from a crowd at a political rally after the vote.
Read more at The Washington Post.
If he disagrees with some of the language in the Patriot Act, then work through it.
If he disagrees with some of the issues in the Patriot Act, then work through it.
But for a U.S. Senator to come out and boast about an act that is vital to our national security, is borderline criminal in my opinion. Reid either needs to issue a retraction of his statement or resign.
---
November 08, 2005
It's Voting Day

DID YOU???
---
November 03, 2005
President Bush's Three Step Plan...
Well, I have been listening to everything that has been going on lately with the President, and I really think he needs some advice from someone that he can count on, me! It's obvious that the Presidents on the right track, he just needs to step up the pace a little.
He is has currently started the process on the first step as you will read.
Step 1: Nominate a Conservative to SCOTUS that can get Senate confirmation.

So far Bush's nomination of Samuel Alito seems to be heading in the right direction. He has rallied the support of the Republican party while managing to fire up Democrats.
But Senate Minority Leader Harry Reid (D-Nev.) warned that a nomination of Alito, or any other candidates too far to the right, could run into trouble. "This is not one of the names I've suggested to the president," Reid said. "In fact, I've done the opposite," he said. "I think it would create a lot of problems."

Learn more about Judge Alito here:Who is Judge Alito

Step 2: Control Unnecessary Spending (Budget Control).

The President needs to work with Congress to further reduce unnecessary spending and cut programs that are not working. The President's budget calls for cutting the deficit in half over the next five years. His plan is to continue with pro-growth policies that will increase revenues into the Treasury while holding the line on Federal spending. While this could prove to be difficult for the President, he must get Congress to support this.
Step 3 (and the most important): Securing Our Nations Borders
This issue will be the President's hardest to achieve, but is so important to the American people that the President must make this happen. President Bush has directed DHS Secretary Michael Chertoff to "make this a priority".
DHS Secretary Michael Chertoff's comments before the United States Senate Judiciary Committee:
The ability of undocumented individuals to enter our country represents an obvious homeland security threat. Flagrant violation of our borders undercuts the rule of law, undermines our security, and imposes particular economic strains on our border communities. When we do not control our borders, we also risk entry into the U.S. of terrorists or others wishing to do us harm.

We also must consider the migrants who rely on "coyotes"- human traffickers and smugglers – and are often robbed, abused, and left for dead on their illegal trek across our borders. We must do more to prevent these situations from continuing.
Read more of Chertoffs comments before the United States Senate Judiciary Committee: Chertoff's Comments
Homeland Security Secretary Michael Chertoff promised to end the "catch and release" policy that has allowed tens of thousands of non-Mexican illegal aliens to disappear within the United States.
"Return every single illegal entrant - no exceptions," Chertoff said. Chertoff said that the nearly 900,000 Mexicans who are caught entering United States every year are returned immediately to Mexico, "but other parts of the system have nearly collapsed under the weight of numbers." In the budget year that ended in September, the Border Patrol apprehended more than 160,000 non-Mexican nationals, but only 30,000 were removed from the United States. The others were released, often on their own recognizance, because there is no place to hold them. Few return for immigration hearings, he said.
Sens. John McCain, R-Ariz., and Edward Kennedy, D-Mass., back a bill that would let illegal immigrants apply for a temporary work visa for up to six years, after which they must return home or apply for permanent residency.
I fully believe that if Bush achieves the above three steps, he can watch his approval ratings go up!
---
November 01, 2005
Senate Closes The Doors
In a rare session of Senate, Senate Minority Leader Harry Reid demanded the doors be closed. Citing "misinformation and disinformation" by the Bush administration. Reid also said his decision was also prompted by the recent indictment of I. Lewis "Scooter" Libby, Vice President Dick Cheney's former chief of staff.
"The Libby indictment provides a window into what this is really about: how the administration manufactured and manipulated intelligence in order to sell the war in Iraq and attempted to destroy those who dared to challenge its actions," Reid said. "As a result of its improper conduct, a cloud now hangs over this administration."
Reid made the motion, and received an immediate second by Dick Durbin (like thats a surprise).
Republicans, who were clearly caught off-guard by the maneuver, called the move "gutter" politics. Senate Majority Leader Bill Frist (search) of Tennessee said the chamber was "hijacked" by Democrats.
---
October 27, 2005
Harriet Miers Withdraws
This morning, Harriet Miers withdrew her nomination to be the next U.S. Supreme Court Justice. Miers would have replaced Sandra Day O'Connor. After facing harsh criticism from both Republicans and Democrats, Miers withdrew citing Senate demands for release of internal White House documents in advance of her confirmation hearings.
"I have been greatly honored and humbled by the confidence that you have shown in me, and have appreciated immensely your support and the support of many others. However, I am concerned that the confirmation process presents a burden for the White House and our staff that is not in the best interest of the country,"
President Bush is said to have "Reluctantly" accepted her withdrawl.
Comments from Senate Minority Leader Harry Reid, D-Nev.:
"In choosing a replacement for Ms. Miers, President Bush should not reward the bad behavior of his right wing base,"
---
October 23, 2005
Harriet, Harriet, Harriet...
I had no intention of posting on the Harriet Miers nomination. Due to the fact that every blogger under then sun is posting about it. But, I saw a post at Nickie Goomba's Blog and could not resist. As I always say, "A picture is worth a thousand words..."
Hat Tip: Nickie Goomba
---
October 20, 2005
Heeeeeeer's Hillary...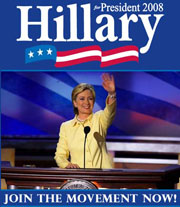 A picture says a thousand words... God help us!
---
October 18, 2005
What's Mine is Mine and What's Your's is Mine!
For the longest time, conservatives, liberals and lefties have all wanted the whole pie. Never considering dividing it up and ALL having a piece or two. Today, SactoDan, a local fellow blogger has an excellent post on compromising in politics.
There are a number of people calling themselves Republicans who are considerably liberal. They are commonly referred to a RINOs (Republican in name only), who are willing to look like liberals to win. Then there are hard core conservatives who's opinions are so ingrained, they won't even engage in meaningful dialog.
So who is the message intended for???
Somewhere in between are pragmatic conservatives who still operate from core beliefs, but are amenable to some compromise to achieve a share of power, and further their principles.
---
September 13, 2005
Kennedy and Roberts Trade Blows
Direct from the Goomba News Network:
In what is shaping up to be an interesting confirmation, today Senator Edward M. Kennedy (Mass-D), agressively questioning Roberts on his briefs that were written during the Reagan administration. Kennedy described some of those writings on voting rights as a "narrow, cramped and mean-spirited view" that failed to show a full appreciation of discrimination. After repeatedly interrupting Roberts, Kennedy was told by Arlen Specter (PA-R) to "allow the nominee to finish his answers".
Kennedy: "I'm just trying to find out, on the Voting Rights Act, whether you have any problem at all and trouble at all in terms of the constitutionality of the existing Voting Rights Act that was extended by the Congress."
In a surprising repsonse, Roberts came out with a left hook. His response:
Roberts: "Oh. Well, the existing Voting Rights Act and the constitutionality has been upheld. And I don't have any issue with that." "Perhaps I can refer the Senator to the precedent-setting case of Chappaquiddick vs. Kopechne."
Hat Tip: Nickie Goomba for Roberts response
---