October 31, 2005
Trick or Treat Street
Lastnight, at the Arden Fair Mall, they held their "Trick or Treat Street". Basically this is businesses in the community helping children by giving back. This was sponsored by Adren Fair Mall, 107.9 FM The End, and Kindercare.
I would like to start off by saying that I think they did a fabulous job in organizing this function. There had to be a couple thousand children in attendance, and of course there my wife and I were with our two youngsters. Usually when it comes to a community function, I will take it for what it's worth and not complain. However, in this case, since this is my own blog, I am going to take this opportunity to complain a bit.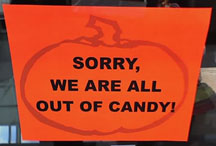 I was surprised to see that there were alot of orange papers hanging in the windows of quite a few merchants. On the piece of paper, was the outline of a pumpkin, and the words "Sorry, we are all out of candy". I found this a bit odd as the function just started and they were all out. It wasn't like they had a mad rush, ran out of candy, and slapped up a hand written sign. No, these signs were prepared in advance. So as we made our way around the mall, there were more and more of these signs in windows.
I thought, ok, smaller stores may not have the purchasing power ($40 - $50) that the large anchor stores would. Well guess what, not one of the anchors gave out candy. I was floored. At this mall Sears, Macys, JC Penny, and a Nordstroms are the anchors.
Don't get me wrong, I am not trying to get something for nothing. But if the mall is having a function geared toward children, I think the anchor stores should participate. I have been in retail management for the past 15 years, and every year we do something for the kids to help make their Halloween a safe one. Listed below are just a few of the stores that did not participate. The list is NOT complete as I could not remember all of them, but here are a few:
Sears
JC Penny
Macys
Nordstroms
Pearl Vision
Zumiez
Lady Foot Locker
Kids Foot Locker
Bonsai Gifts
Apple
Radio Shack (Handed out candy, but one girl kept telling the other, "Hurry up and give them hand fulls so we can quit early)
Nextel
As a parent I am very thankful to everyone that participated in this function. As a consumer, I am very disappointed in the stores that did not. I will certainly be voicing my disappointment in those stores to friends and family.
---
October 28, 2005
The Most Racist Post I Have Ever Read!
Tonight while I was surfing the blogosphere, I came across a post on a blog that floored me. On Steve Gilliard's blog, there is a post entitled " Simple Sambo wants to move to the big house". In the comments section, the author indicates he is black and he feels it's acceptable make these comments. I for one, do not.
Take a look and let me know what you think!
---
October 27, 2005
Cyber Pumpkins???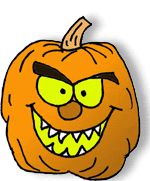 I saw this while visiting Nickie Goomba's blog tonight, and I have to say it grabbed my attention. I carve pumpkins every year with my children, but this takes on a new meaning.

Check it out:
---
Sacramento Republicrat Joins The Western Alliance

Today, yours truly was given the honor and privilege of joining The Western Alliance, a group of upstanding bloggers here in Sacramento.
Thanks again for the invitation, and I look forward to blogging with you.
SR
---
Harriet Miers Withdraws
This morning, Harriet Miers withdrew her nomination to be the next U.S. Supreme Court Justice. Miers would have replaced Sandra Day O'Connor. After facing harsh criticism from both Republicans and Democrats, Miers withdrew citing Senate demands for release of internal White House documents in advance of her confirmation hearings.
"I have been greatly honored and humbled by the confidence that you have shown in me, and have appreciated immensely your support and the support of many others. However, I am concerned that the confirmation process presents a burden for the White House and our staff that is not in the best interest of the country,"
President Bush is said to have "Reluctantly" accepted her withdrawl.
Comments from Senate Minority Leader Harry Reid, D-Nev.:
"In choosing a replacement for Ms. Miers, President Bush should not reward the bad behavior of his right wing base,"
---
October 24, 2005
Rosa Parks: The Woman Who Changed a Nation... R.I.P.

Tonight civil rights pioneer, Rosa Parks passed away. Mrs. Parks was 42 when she committed an act of defiance in 1955 that was to change the course of American history and earn her the title "Mother of the civiuses, restaurants and public accommodations" throughout the South, while legally sanctioned racial discrimination kept blacks out of many jobs and neighborhoods in the North.
Mrs. Parks died at her home of natural causes, said Karen Morgan, a spokeswoman for U.S. Rep. John Conyers (search), D-Mich.
---
October 23, 2005
Harriet, Harriet, Harriet...
I had no intention of posting on the Harriet Miers nomination. Due to the fact that every blogger under then sun is posting about it. But, I saw a post at Nickie Goomba's Blog and could not resist. As I always say, "A picture is worth a thousand words..."
Hat Tip: Nickie Goomba
---
October 20, 2005
Heeeeeeer's Hillary...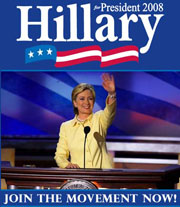 A picture says a thousand words... God help us!
---
October 18, 2005
Welcome
Just a quick post to welcome you to my new blog and to say "Thanks" for stopping by. I hope to have my archived posts on here shortly, so be sure to check back soon...
---
What's Mine is Mine and What's Your's is Mine!
For the longest time, conservatives, liberals and lefties have all wanted the whole pie. Never considering dividing it up and ALL having a piece or two. Today, SactoDan, a local fellow blogger has an excellent post on compromising in politics.
There are a number of people calling themselves Republicans who are considerably liberal. They are commonly referred to a RINOs (Republican in name only), who are willing to look like liberals to win. Then there are hard core conservatives who's opinions are so ingrained, they won't even engage in meaningful dialog.
So who is the message intended for???
Somewhere in between are pragmatic conservatives who still operate from core beliefs, but are amenable to some compromise to achieve a share of power, and further their principles.
---
Oprah's Most Wanted???
Talk show host turned crime fighter is going after child molesters. You can read more about it here. and here.
I applaude Oprah's efforts on this. As many of you know, I strongly believe that anyone who harms a child in a sexual manner, needs to face the harshest of punishments.
Breaking news! Two accused child molesters—caught! We posted their pictures and viewers just like you turned them in. The tip, the big break, the capture…all the details. How you can claim the next $100,000 reward! Child molesters, we are coming after you!
Here is a very good site on "How to Protect Your Children". It is certainly worth the read.
Good luck Oprah!
---
October 05, 2005
Local talk show host has multiple personalities???
In a VERY well written post, The SactoDan Blog has local talk radio host Mark Williams allegedly making posts on The Sacto Dan blog using multiple names. None of which are his own. This is very worthwhile reading. Read more here. Great job Sacto Dan!
---
October 02, 2005
FEMA Says "No Thanks" to Help...
When Loudoun County Sheriff Steve Simpson got a call for help from fellow officers in Louisiana, he gathered equipment, supplies, and a 22 person team. Ten hours later, they were ready to go. Simpson said once they finally reached someone at the Jefferson Perish Sheriff's Office, the lady was desperate. Simpson said the tone of emotion and concern in her voice made it clear that something had to happen.
She said, 'We need help and we need it now. People are shooting at the station. "
Simpson said they got all political and legal issues resolved with Loudoun County Attorney around 1pm the next day. All they needed was a "FEMA tracking number" and they could hit the road. Sheriff Simpson continued calling FEMA every few minutes for hours with no one answering the FEMA telephone. After getting nowhere with the FEMA line, he called an old friend who is with The Red Cross - who got him another number.
"When someone finally answered, they told him the didn't know who to call in Louisiana," Simpson said.
Simpson continued to push as he knew it was the right thing to do. He finally spoke with a trooper froom the Louisiana State Police.
"This trooper actually told us that we were not to come down. I couldn't believe it. All I could say 'Excuse me?'" " I told him, 'With all due respect sir, your governor is on television pleading for help amd that's what were are offering.'" "They said we were 'Self Dispatching'" Simpson said.
Sheriff Simpson did not take this lying down. He placed a call to CNN, a reporter was on site within hours and he was doing a live interview. I would like to say a personal "Thank You", to Sheriff Simpson. People like him give Law Enforcement a good name.
---