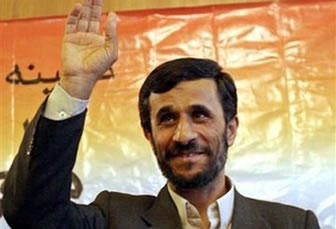 As the dispute over Iran's nuclear program is moved to the United Nations Security Council, Tehran is stepping up its rhetoric against the West. Facing action by the world body, Iran says it has 40,000 trained suicide bombers ready to attack.
The main force, named the Special Unit of Martyr Seekers in the Revolutionary Guards, was first seen last month when members marched in a military parade, dressed in olive-green uniforms with explosive packs around their waists and detonators held high.
Dr. Hassan Abbasi, head of the Centre for Doctrinal Strategic Studies in the Revolutionary Guards, said in a speech that 29 Western targets had been identified: "We are ready to attack American and British sensitive points if they attack Iran's nuclear facilities." He added that some of them were "quite close" to the Iranian border in Iraq.

In a tape recording heard by The Sunday Times, Abbasi warned the would-be martyrs to "pay close attention to wily England" and vowed that "Britain's demise is on our agenda."
This should be considered as an act of aggression and an act of war.
The fresh fears over a possible U.S. attack on Iran's nuclear sites helped attract volunteers during its latest recruitment drive, Mohammad Ali Samadi, spokesman for the Committee for the Commemoration of Martyrs of the Global Islamic Campaign, said.

"Because of the recent threats, we have started to register more volunteers since Friday," Samadi told Reuters by telephone.

"Some 200 people have registered to carry out operations against our enemies. America and Britain are definitely considered enemies."

Chanting "Death to America" and "Nuclear technology is our right", volunteers registered their names at the former American Embassy in southern Tehran on Sunday.

"We will give a good lesson to those who dare to attack our country," said Ali, a 25-year-old masked volunteer, after filling out registration form.

When asked why he had covered his face, Ali said: "I do not want to be recognized when traveling abroad to harm American and British interests."
President Mahmoud Ahmadinejad warned last Friday that Israel was heading toward "annihilation." He was speaking at a Tehran conference on Palestinian rights aimed at promoting Iran as a new Middle Eastern superpower.
It is clear to me that Mahmoud Ahmadinejad is a lunatic. As they say in the movies "Kick the tires and light the fires". We need to get our planes in the air and turn Iran in to a giant parking lot. They are clearly plotting our demise.
Sactodan has a post discussing what it's gonna take for the US to get going.
---